A New Season Brings New Slip, Trip and Fall Dangers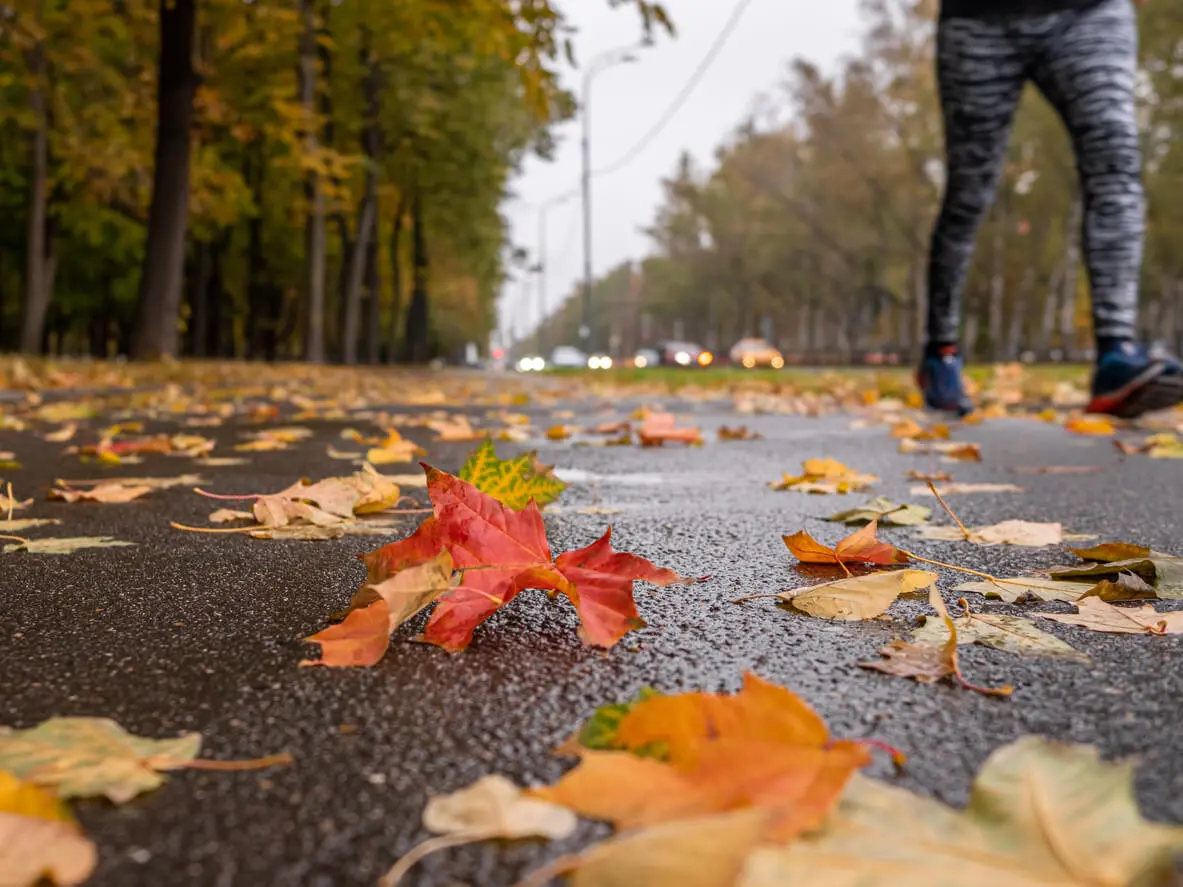 Slips, trips and falls are a common occurrence throughout the year but the autumn and winter months present risks that can increase the chance of an accident resulting in a serious injury.
The leaves on trees have turned to glorious shades of red and oranges. However, when those leaves fall to the ground they can be slippery, especially when wet. They can also hide potential hazards such as cracks in sidewalks or holes or other debris on the ground that can lead to an inadvertent and unexpected stumble.
As the weather turns colder, we can expect the inevitable return of snow, sleet, freezing rain and, of course, slush. We live in a climate where we can experience frigid temperatures one day and warmer weather the next. Thawing and refreezing can lead to black ice. Sometimes this ice is hidden below a light dusting of snow, which can make walking even more treacherous.
Slip and Falls Are a Year-Round Danger.
No matter the time of year, sidewalks, driveways and steps can present a daily hazard if the property owner fails to take precautions. And accidents can happen indoors as well as outside.
Hazardous conditions at residences or businesses can include:
potholes;
poor lighting;
clutter or obstructions;
uneven flooring, pavement or steps;
surface cracks or gaps in sidewalks or pathways;
missing or broken handrails on stairs;
lack of caution or warning signs;
slippery surfaces such as wet floors or loose or broken flooring and torn carpet; and
slippery debris on sidewalks and pathways.
We have all taken a tumble at one time or another, and most times it is nothing more than a source of embarrassment. In many instances, the injury is only a bruised ego. However, there are times when we can't just pick ourselves up and dust ourselves off.
If you strike your head after slipping you could suffer a concussion that, left untreated, could seriously jeopardize your health. Slips and falls are especially harmful to the elderly. According to the U.S. Centers for Disease Control and Prevention, one out of five falls causes a serious injury such as broken bones or a head injury.
Even a minor fall can result in soft tissue injuries. And it is never a good idea to ignore lingering pain after a mishap since untreated injuries could manifest into something more serious.
Less Hours of Daylight.
As the daylight hours get shorter, pedestrians should be paying extra attention to their surroundings. We will soon be returning to Eastern Standard Time (EST). Clocks will fall back one hour on November 5th, and although the 60-minute difference may not seem that it would make much of a difference, the City of Toronto reports pedestrian collisions increase by more than 30 per cent during the evening commute hours from November to March.
Reduced visibility means "people and objects on the road are harder to see," the city states. It is suggested drivers follow the following safety tips after the return to EST:
When driving, please slow down and turn slowly. Always stay alert.
Make sure vehicle headlights and signal lights are functioning properly.
Obey speed limits and approach all crosswalks, intersections and transit stops with caution.
Give yourself plenty of time wherever you're going and plan your route in advance.
Use public transit when possible.
Do Your Part to Stay Safe.
There is no way to go through life without experiencing some kind of mishap, no matter how much we try. However, the Canadian Red Cross (CRC) says "prevention is key" when avoiding a slip and fall during inclement weather.
CRC notes how black ice can be difficult to see and advises pedestrians to walk carefully on icy surfaces. Other ways to prevent falls include:
walking on designated walkways, especially those that have been treated for ice;
taking shorter steps and walking slower;
wearing proper footwear with plenty of traction or ice spikes; and
avoiding distractions when walking. Put your phone away and try not to carry heavy items.
As a pedestrian, you need to be vigilant as darkness approaches. The sun is lower during the evening rush hour than it was even two weeks ago. The glare from the sun can impair a driver's vision so it is important to take a second look before crossing the road, even if you have the right of way.
The darkness also makes it more difficult to see hazards in your path so take your time. Leaving a few minutes earlier to get where you are going is much better than spending hours getting medical treatment if you are injured.
What Happens if You Are Injured in a Slip and Fall?
Unless you have suffered a blow to the head, a broken bone or a serious laceration, you may be able to continue on your way after a fall. But you should never take a chance with an injury.
Adrenaline may mask the initial pain or you may not consider the harm to be serious. The impact of a soft tissue injury may not be evident for days.
Your immediate priority is your health, which is why you should always seek medical treatment if you feel any pain. And you should always document your injuries if there is any chance that another person or entity might be responsible for your fall.
Early collection of evidence will help your slip and fall case. Unless your injury prevents you from doing so, ask for the contact information of anyone who witnessed your fall so you can get a statement later.
Write down what happened while it is fresh in your mind. Take photos or a video of the area where you fell. If you cannot do that, ask someone to do so for you. This should be done as soon as possible since weather changes can affect the condition of the scene.
Time is of the essence. Under the Occupiers' Liability Act, in circumstances involving snow and ice, an accident victim has 60 days to notify the potential defendants. More particularly, the provision states: "No action shall be brought for the recovery of damages for personal injury caused by snow or ice against [an occupier and/or an independent contractor employed by the occupier to remove snow or ice on the premises] unless, within 60 days after the occurrence of the injury , written notice of the claim … has been … served."
It also requires that such notice be given to at least one of the potential parties by either personal service or registered mail.
If you are making a claim against the city, however, the limitation period is much shorter under the Municipal Act. In that case, only have 10 days to notify the municipality. Moreover, such notice is not restricted to snow and ice incidents and includes any type of claim relating to the condition of sidewalks and municipal roadways.
There are exceptions to the 10-day notice requirement (death resulting from the injury; or a reasonable excuse for not providing timely notice coupled with an absence of prejudice); however, exceptions can be difficult to establish so one must be mindful of the 10-day requirement.
We Can Help.
Being injured in a slip and fall can have a long-term impact on your life. If you are unable to work, how will you pay for your treatment and everyday expenses? Keep in mind that being hurt due to someone else's negligence does not guarantee that your lawsuit will be successful. Proving negligence or a breach of the Occupiers' Liability Act comes with challenges, which is why you need experienced personal injury lawyers.
If you believe you have a slip and fall claim contact us at Gluckstein Lawyers for a free consultation. You may be entitled to compensation. Our trusted team of slip, trip and fall lawyers has extensive experience at trial and around the negotiating table. As well, our support staff includes people who have their own personal experiences with life-changing personal injury claims and former medical personnel who have a detailed understanding of the workings of the healthcare systems.
Subscribe to our Newsletter