A Story of Invention After Spinal Cord Injury
Many times, out of tragedy arise triumph, inspiration, and innovation. Our post this week shines the spotlight on the story of Sean Doherty, a tetraplegic (quadriplegic), and medical engineering researcher in the U.K. who is focusing his life's work around spinal cord injury. The intrepid Irishman, Sean was recently awarded £65,000 to further a project aimed at improving the independence and quality of life for people with spinal cord injury.
---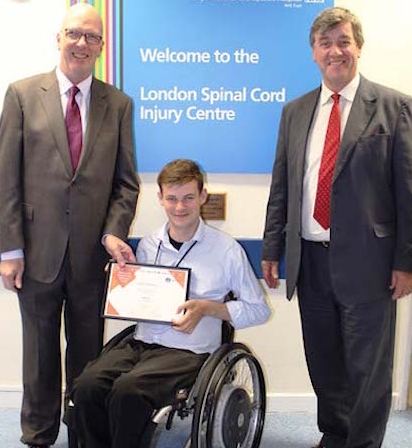 PHOTO: Sean Doherty, centre, with Trevor Koschalka and Rory Steevenson, Director at the INSPIRE Foundation (Credit: Masonic Charitable Foundation)
At the age of 18, a mountain biking accident left Sean paralyzed and with limited function in his hands and arms. Sean eventually went on to study at the University of Cardiff and is now working at the London Spinal Cord Injury Centre at the Royal National Orthopaedic Hospital in London, England. Sean describes himself as an "aspiring inventor and full-time wheelchair enthusiast." "I wanted to be an inventor when I was young," Sean recalls. "I think having my injury has directed that ambition towards problems I have seen since." One of the biggest challenges facing those with spinal cord injury is incontinence - lack of voluntary control of the bladder and bowels. Many currently rely on pharmaceutical therapies. But Sean and his co-research scientists, Dr. Sarah Knight and Dr. Anne Vanhoestenberghe, plan to use their grant money to develop a wearable device that relies on electrical stimulation to help control bladder and bowel function. The grant was awarded by INSPIRE Foundation, a spinal-cord-focused charity. The funds will allow the researchers to dedicate their efforts over the next three years to developing and testing the invention. Reflecting on the grant, Sean remarks: "...it is allowing progress towards better solutions to manage the profoundly personal problems, such as incontinence, experienced by many following neurological injuries." Gluckstein Lawyers wishes Sean the best of success for his project.
---
Comments
We would love to hear from you. Share your thoughts in "Leave a Comment" below.
---
LINKS
>>
Fresh Hope For Paralysis patients
>>
Plunging head first - Diving Safety To Prevent Spinal Cord Injury
---
Sources: uk.linkedin.com/in/sean-doherty-6615a968 irishpost.co.uk/paralysed-irishmans-inspiring-invention-will-help-others-living-spinal-cord-injuries/
Subscribe to our Newsletter