after BREAST CANCER Holds Inspiring Gala to Empower Women
Founded in 2013,

after BREAST CANCER

, is a volunteer-driven registered charity that helps breast cancer "graduates" with limited financial resources and no insurance obtain their basic post-operative needs at no personal cost. Our charity works to identify and assist underserved areas in breast cancer survivorship, areas that are frequently overlooked such as the need for prostheses and bras that help women return to the workforce and help (re)build self-esteem after body-altering surgery. We serve women who are live at or just above the poverty line and who might be a part of marginalized communities.
---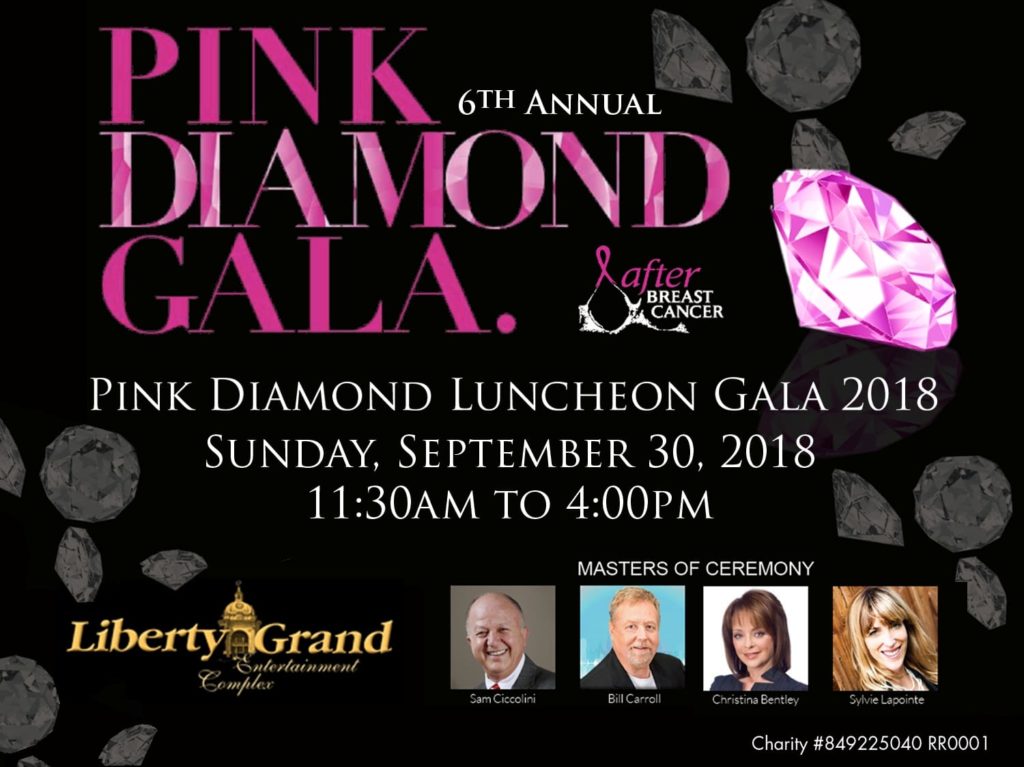 ---
Written by the
after BREAST CANCER team
after BREAST CANCER
provides women with essential items such as post-operative mastectomy bras, mastectomy camisoles and breast prostheses. Our goal to is ensure that no woman goes without these very necessary items due to financial circumstances. Sadly, the cost of a prosthesis is beyond what many women can afford: the average cost for a single prosthesis is $460 and each mastectomy bra is at least $75. While the Government of Ontario offers a bursary for prostheses, the amount given does not cover even half the cost. That is where
after BREAST CANCER
steps in. We work in conjunction with several hospitals and other cancer agencies/charities to locate breast cancer graduates in need across Ontario, who need that extra financial support for these necessities. While most breast cancer charities--indeed, most cancer-related charities--focus on assisting a person during treatments or medical research,
after BREAST CANCER
focuses on women's post-surgical needs and the subsequent needs that extend well beyond the disease. We support women after the cancer has (hopefully) been eradicated and work to help women return to "normal' life. Thus,
after BREAST CANCER
provides a unique service for breast cancer graduates: the bras and prostheses needed for daily life. No other cancer-related charity offers what we offer to women in Ontario.
after BREAST CANCER's
Annual Gala:-
The pink carpet will be rolled out for the
after BREAST CANCER
6th Annual Pink Diamond Gala featuring award-winning superstars Divine Brown AND Amy Sky performing. This year's special presentation will celebrate a grand affair to be held at Toronto's renowned Liberty Grand Entertainment Complex, 25 British Columbia Rd, on Sunday, September 30, 2018. Dubbed as the city's most stylish event,
after BREAST CANCER
is excited to host the prestigious Pink Diamond Gala Luncheon which draws 550 patrons to the event. The Pink Diamond Gala, our premiere event, raises monies for
after BREAST CANCER's
programs. This extravaganza celebrates life after breast cancer with our generous supporters and breast cancer graduates, many of whom benefited and continue to benefit from our programs.
For this event, Gluckstein Lawyers are Silver Sponsors. They are proud supporters of all initiatives related to health education, empowering women, accessibility to life-changing opportunities, and fighting against all forms of cancer. Gluckstein believes in offering full-circle care to their clients and community, supporting them along the way in their journey to recovery and reclaiming their lives with dignity after a catastrophic event.
We cordially ask you to join us for this event in support of after BREAST CANCER. Come eat, drink, dance and help us celebrate live after breast cancer!
PINK DIAMOND GALA SCHEDULE
DATE:
Sunday, September 30, 2018TIME 11:30 AM to 4:00 PM
LOCATION:
Liberty Grand Entertainment Complex, 25 British Columbia Rd, Toronto, ON | M6K 3C3
GALA ATTENDEES:
550+PERFORMERS: Divine Brown "Old Skool Love" AND Amy Sky "I Will Take Care of You"
TICKETS:
$100 Regular Tix | $150 VIP Ticket (Tables of 8 and 10 also available)
KEYNOTE SPEAKER:
Dr. Mansoor S. Mohammed, BSc (Hons Mol Gen); Ph.D. For all Gala sponsorship and for tickets, please see:
https://afterbreastcancer.ca/pdg-2018-afterbreast-cancer/
Subscribe to our Newsletter