Canadian Lawyer Top 10 Personal Injury Boutique 2022
Vote Gluckstein Lawyers for Canadian Lawyer's Top 10 Personal Injury Boutique 2022. Voting ends on March 4, 2022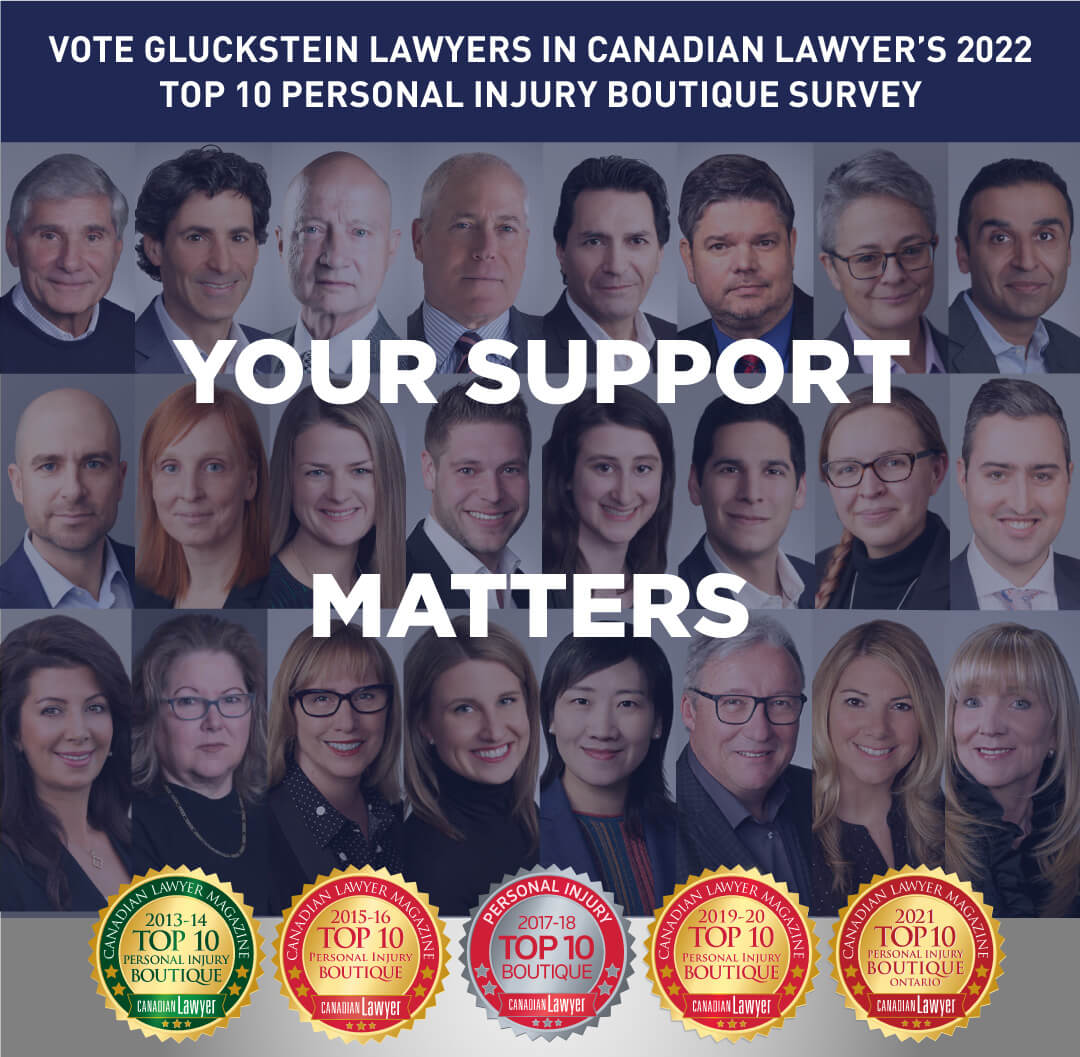 We are extremely grateful to receive your ongoing support in recognizing Gluckstein Lawyers in the Canadian Lawyer's Top Personal Injury Law Firm 2022 survey. Gluckstein Lawyers has been consistently honoured as a Canadian Lawyer Top 10 personal injury law firm since 2013. With 60+ years of experience in personal injury law, we specialize in cases involving motor vehicle accidents, medical malpractice, birth injuries, long-term disability, brain and spinal cord injury, wrongful death, product liability and class actions. With the recent addition of top sexual abuse lawyers, Simona Jellinek, Erin Ellis and Ivanna Iwasykiw, as well the legal team at Jellinek Ellis Gluckstein (previously known as Jellinek Law Office), we are excited to enhance our offerings to include sexual abuse law as we continue to serve all of Ontario's personal injury needs. Gluckstein Lawyers has leading-edge practitioners with a wealth of experience and the most innovative legal technology to serve clients more effectively and efficiently. With offices in Toronto, Niagara, Ottawa, Barrie, Collingwood, and Orillia Gluckstein Lawyers, we can handle the most complex litigation across the province and beyond. We congratulate all other firms this year and would like to express our gratitude to Canadian Lawyer Magazine for the opportunity to be a part of this important survey among our colleagues and peers.
Where to vote
Online, of course! Please help rank us in the Canadian Lawyer Top 10 Personal Injury Boutique 2022. Your support means a lot to all of us at Gluckstein Lawyers. Click here to take the survey.
How to vote
The four simple-step survey takes only 2 minutes to complete!
Identify your firm or organization.
Indicate your nearest town/city/province.
Indicate your year of call or years of service in your profession.
Select a minimum of 5 law firms for your survey vote to count.
Add any additional comments (this is optional). When you are ready, follow the prompts.
Click "Done" to complete the survey! Take the survey
Thank you for your ongoing support!
Subscribe to our Newsletter