Celebrating 55 Years Of Practice For Bernard Gluckstein
April 12, 1962 was a memorable day for Bernard Gluckstein, Q.C. It was then that he was officially called to the Ontario Bar and became a practicing lawyer. From that date forward, he would go on to do great things in the area of personal injury law - both as a lawyer and as a humanitarian. This year, Gluckstein Lawyers is thrilled to mark Bernard's 55th Anniversary milestone.
---

A Career Spanning Half A Century
Bernard started his career in the litigation department of the all-purpose law firm Schuber, Bassman. He soon introduced the firm to insurance litigation, building up the practice at a time when few firms focused on personal injury cases.
Since then, Bernard has become one of Canada's most prominent lawyers and a noted authority in personal injury litigation and neuro-trauma cases.
Bernard eventually opened the doors of his own law office and began a practice exclusively dedicated to defending the rights of injury survivors. The firm has undergone a few name changes over the years, but now figures among Canadian Lawyer Magazine's list of Top 10 Personal Injury Law Firms in the country.
Gluckstein Personal Injury Lawyers is now actively managed by son Charles, who chose to follow his father's example of care and commitment to injured individuals.

Legal Brilliance. Generous Humanitarianism.
Throughout his career, Bernard has lectured extensively throughout North America and is also a widely published author in the area of personal injury law. Yet, over the decades, his reputation has extended beyond that of a leading legal practitioner.
With a strong and consistent interest in improving the lives of injury survivors and the disabled, Bernard has donated copious amounts of time and resources to philanthropic efforts. He continues to provide financial and executive support to numerous non-profit organizations, including Spinal Cord Injury Ontario, the Canadian Brain Injury Coalition, Ontario Brain Injury Association, and Disability Today Network, to name a few.
Throughout his career, Bernard has received numerous honours, awards and distinctions, with highlights including a 2015 induction into the CFPDP Disabled Hall of Fame Award, the prestigious 2014 King Clancy Humanitarian Award and the 2011 Alumni Gold Key Service Award from Osgoode Hall Law School.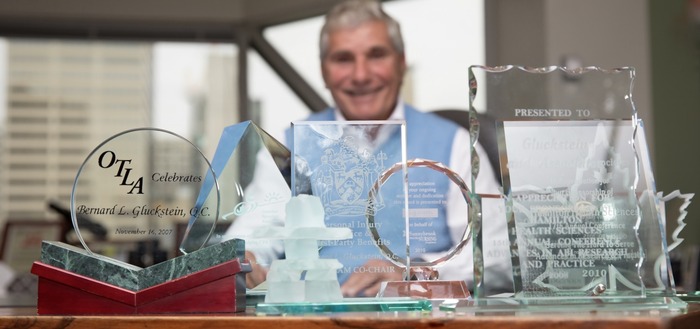 Congratulations, Bernard Lloyd Gluckstein
This April, Bernard's family, both in his personal life and at the firm, want to take this opportunity to say:
Congratulations, Bernie! Even after 55 years, you're still going strong - ever passionate about the law, ever striving to advance the well-being of the injured. Thank you for a lifetime modelling such a fine example of dedication as a lawyer and as a human being.
If you would like to send a Note of Congratulations to Bernard,
kindly leave your message in the Comments Section below.
---
L I N K S | >
Bernard-Gluckstein 2015 Canadian Disability Hall of Fame Inductee
>
King Clancy Humanitarian Award
---
Subscribe to our Newsletter