Charles Gluckstein receives Zenith Award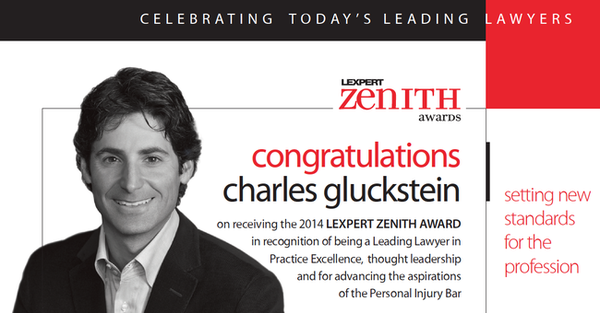 ---
ANNOUNCEMENT
---
Gluckstein Lawyers are thrilled to announce that on October 2nd, 2014 Charles Gluckstein received the prestigious Lexpert Zenith Award. Charles collected this honour during the Annual Lexpert Gala hosted at The Arcadian Court in Toronto.
LEXPERT ZENITH AWARDS l Celebrating Leading Lawyers
At this year's gala, Charles was awarded the prestigious 2014 Leading Lawyer in Practice Excellence Award, in recognition of his thought leadership and for advancing the aspirations of the Personal Injury Bar.
Charles was the only Personal Injury Lawyer in his category to receive this honour.
According to the Lexpert Zenith website, "Zenith Winners are carefully and thoughtfully selected by an Advisory Board comprising some of Canada's most respected Bar leaders."
This notable award is given to those who set new standards for their profession, in particular those who make important contributions in the form of thought leadership in their community. The 2014 Lexpert Zenith Awards were celebrating,
"The achievements of lawyers who have advanced the aspirations of their firms, companies, departments, faculties, profession, colleagues and/or communities in a particular area of practice. Award winners may include law firm practitioners, in-house counsel, judges, academics and other legal thought leaders who are also outstanding role models for other lawyers."
We at Gluckstein Lawyers are proud and excited to share this momentous achievement with Charles as it honours and highlights the values we strive for as a firm.
REFERENCES:
www.lexpert.ca/zenith
Subscribe to our Newsletter