Sick Kids Sponsorship: Gluckstein Lawyers Education Award Fund
In December 2013, the Gluckstein Lawyers Education Award Fund was established. This award promotes the importance of continuing education by providing Sick Kids trauma care staff with professional development opportunities that can impact the way their staff treats seriously ill children.

Dedicated to Paediatric Health Care
On November 3, 2016, SickKids Hospital Foundation (Toronto) hosted a Luncheon in recognition of The Gluckstein Lawyers Education Award Fund. Chantelle Brodersen, Manager, Corporate Partnerships, SickKids Foundation together with Linette Margallo, Clinical Director, Emergency Department, SickKids Hospital welcomed Bernard Gluckstein and Jordan Assaraf of Gluckstein Lawyers to thank the firm and to acknowledge the positive impact of corporate sponsorship on the lives of staff and their patients.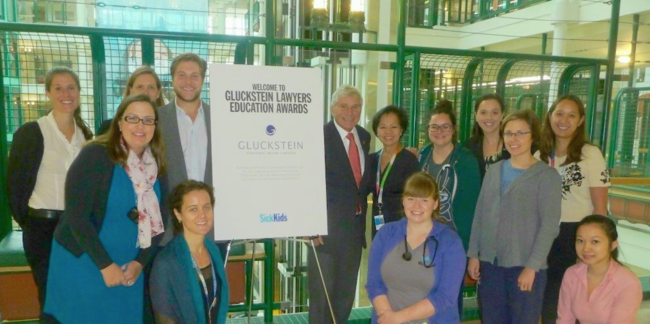 TORONTO | Sick Kids 5C Neurology-Trauma Unit, November 3, 2016
Sick Kids is dedicated to remaining at the forefront of paediatric health care and with the Gluckstein Lawyers Education Award Fund they are able to provide their nurses with the opportunity for ongoing professional development. This includes the expansion of their skills, knowledge and ensures they have the most current and progressive training.
With this award, Sick Kids is able to send nurses to various Trauma conferences, which expand their knowledge and skills. Thus allowing them to bring what they learn back to the hospital and apply it in their work. Gluckstein Lawyers are delighted to be able to assist with continuing education by providing nurses with opportunities to learn advanced techniques, helping Sick Kids remain a leader in care.
What this fund means to Sick Kids
With the financial support of the Gluckstein Lawyers Education Award Fund, Sick Kids were able to provide the following professional development opportunities:
» 1 nurse practitioner and 2 nurses from 5C (Neurosciences and Trauma Unit) attended and presented at The Canadian Association of Neurosciences Nurses Annual Scientific Meeting in Banff, Alberta - "Scaling New Heights in Neuroscience Nursing -- Practice, Education, Research, Leadership, Patient Safety and Quality Improvement."
» 3 Emergency nurses and 4 Critical Care nurses attended the University of Toronto Interdisciplinary Trauma Conference. They focused on emergency preparedness for mass casualties and offered learnings that advance expertise in the complex care of the trauma patients.
About The Education Fund
The Gluckstein Lawyers Education Award Fund was established to finance education and professional development for Nursing and Trauma staff as determined by the Hospital. The fund helps enable hospital staff to build the skills and knowledge of the current child health professionals through educational and professional development opportunities.
Members are selected by their managers to encourage educational opportunities based on their interest in trauma care, and the stipulation that they are currently providing care to trauma patients within the hospital.
LINKS
>> https://www.gluckstein.com/About/Sponsorship/THREE-TO-BE
Subscribe to our Newsletter