Gluckstein Events: Performance Driving Experience 2014
---
---

WHEN
July 2nd, 2014 This event is by invitation only l 10 a.m. to 4 pm.
---
WHERE
---
Canadian Tire Motorsport Park (formerly known as MOSPORT)
Bowmanville, Ontario
[1-1/2 hour drive North East of Toronto]
The MOSPORT track has hosted racing legends such as Gilles Villeneuve, Bruce McLaren, stock car king Richard Petty and Formula One World Driving Champions such as Jim Clark, Jackie Stewart, Mario Andretti and Nick Lauda.
---
WHO IS ELIGIBLE?
---
Gluckstein Lawyers is offering this opportunity to Ontario residents living with:
Acquired Brain Injury (ABI)
Spinal Cord Injury (SCI)
Other Neurological Disorders
Visual Impairment
---
TYPES OF GIFT EXPERIENCES
---
Performance Driving Gift Experience
A GLUCKSTEIN Performance Driving Gift Experience entitles the recipient to a half-day session held at the Drivers Development Track. Includes a performance retrofitted sports car (details below) and a one-on-one driving experience with a bona-fide professional driving instructor. To ensure a safe and controlled environment, the driving instructor is present for the entire duration of the session. Snacks, lunch and refreshments provided.
VICTORY LAPS Gift Experience
A GLUCKSTEIN VICTORY LAPS Gift Experience entitles the recipient to ride in a performance sports car driven by a bona-fide professional driving instructor on the Drivers Development Track. Available for CHILDREN, TEENS or ADULTS who choose to be a passenger along for the thrill of the drive! Includes photo opts, snacks and refreshments!
Gluckstein Personal Injury Lawyers will gift a total of 4 Performance Driving Gift Experiences, and issue additional VICTORY LAPS Gift Experiences.
---
WHAT ELSE DO YOU NEED TO KNOW
---
Retrofitted Sports Cars! PORSCHE! MITSUBISHI! At this event, the sports cars are tailored to ensure that everyone has a unique driving experience. For example, the cars will feature hand controls for those who have been left without the use of their legs; the visually impaired will be able to drive a race car, with a specially trained instructor in the passenger seat.
Driver Development Track Building is available for you and your invited guests. Facilities include ground-level lounge; couch areas; wheelchair accessible washrooms; and, a patio 20 feet away from the race track for photo opts!
Dress Code l Please come dressed in comfortable, casual wear.
TERMS: Draw open to residents of Ontario. Limit of 1 gift experience gifted per person and per family. No exchanges or cash value on gift experiences. Persons with ABI, SCI, Neurological Disorders and the Visually Impaired are eligible to enter this draw. Recipients responsible for their own transportation.
Further details will be provided to all recipients of gift experiences.
---
M E S S A G E S
---
Wow, what a great event! I have twins age 14 both with ABI from their very premature birth. They would love to ride in a race car :-) I have seen them triumph over adversity almost daily since their birth. They have amazing resilience. Thank you for this opportunity. -- ALISON
Message sent for a Victory Lap Ride Gift Experience, June 11,2014


Wow! Soooo exciting! - THOMAS
Message sent for Performance Driving Gift Experience, Victory Lap Ride Gift Experience, June 11, 2014
Had my accident in 1998 when I was 13 and was told I would never drive again.
Now drag race my car, would love to try track racing! -- JOHN
Message sent for Performance Driving Gift Experience, Victory Lap Ride Gift Experience, June 11, 2014

That sounds like great fun -- TED
Message sent for Performance Driving Gift Experience, Victory Lap Ride Gift Experience, June 12, 2014
---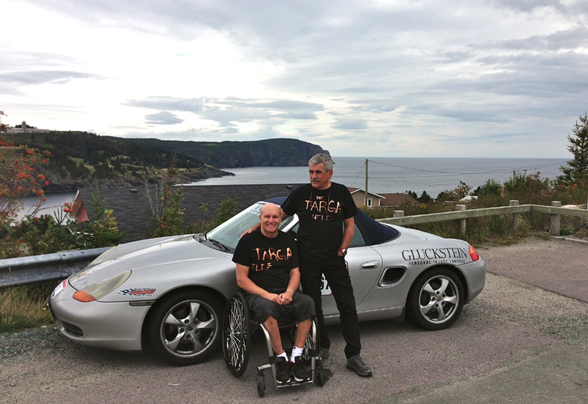 ---
ABOUT RICK BYE, BRIAN DONATO and TARGA
---
This September, Rick Bye will team up with Brian Donato, the survivor of a spinal cord injury, with the goal of having Donato compete in the 2,200-kilometre Newfoundland Targa road rally race. Their message is a source of inspiration that we wish to share:
" For brain and spinal cord survivors everywhere,
together these two outstanding individuals
send a message that is beyond measure:
back in the driver's seat, back in control, back into life."
• • • •
We proudly support our former client, Rick Bye, catastrophic brain injury survivor, and renowned Canadian Racing Champion and Brian Donato, spinal cord injury survivor, in their quest to win the TARGA 2014!
L I N K S l For more about Rick, Brian and the TARGA Race, visit:
Photo Journal Highlights
www.rollwithitracing.com
---
T H A N K Y O U
---
We wish to acknowledge Rick Bye for his generous support and efforts towards this event. We thank you for helping to create an unforgettable, unique opportunity for those living with ABI injury, SCI injury or other Neurological Disorders who never thought they would ever get the chance!
Subscribe to our Newsletter