IPBIS 2017: Gluckstein Presents The Jane Gillett Award
Ciao! We're on location at IPBIS, the 2nd Annual Paediatric Acquired Brain Injury Conference unfolding in Rome, Italy from September 20-23, 2017. We're honoured to be presenting the Jane Gillett Award.
---
The Winner of the 2017 Jane Gillett Award
ROME | Thursday, September 21, 2017
Gluckstein Lawyers presented the 2017 JANE GILLETT AWARD to Dr. Ingrid van't Hooft, in recognition of her continued focus on cognitive deficits and rehabilitation in children after brain tumours and other ABIs; her role in building the most comprehensive rehabilitation program with neurologist, Bo Ericsson, for children with ABI in Sweden. Dr. Ingrid received a monetary prize and a beautiful piece of art from Benjamin Sloetjes. Benjamin was Dr. Jane Gillett's patient and became a client of the firm at age 18, suffering from ABI (acquired brain injury).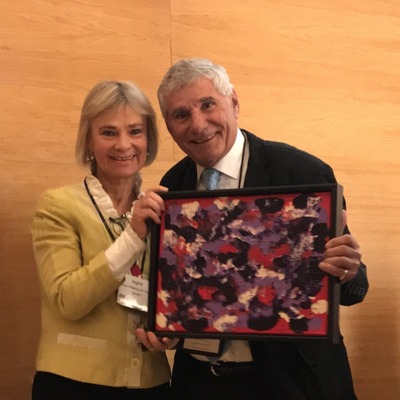 Dr. Ingrid van't Hooft with Bernard Gluckstein, Rome, 2017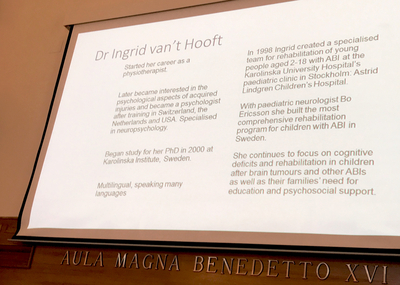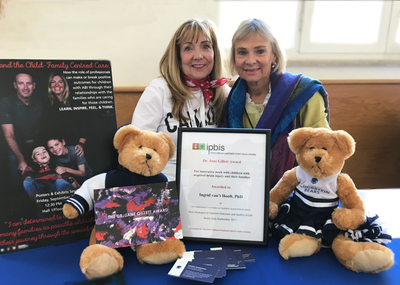 Dr. Ingrid van't Hooft with Dianne Henderson, Rome, 2017
---
Jane Gillett: The woman behind the respected Award
Dr. Jane Gillett's legacy is one of many triumphs -- she was a doctor and leader in brain injury treatment; well known for her exceptional care of her patients, whether on a medical level or connecting with them on a human level. She touched many lives. We were blessed to have known Dr. Gillett professionally and as a dear friend.
To honour her, the Jane Gillett Award was established to recognize those making an incredible difference and massive feats in the paediatric acquired brain injury field.
Her legacy shows there is more work to be done.
Dr. Jane Gillett was both the founder and president of the International Pediatric Brain Injury Society, which strived for better care for children who have suffered from brain injury. The society's work cannot be measured only in numbers and data--their impact on the community and in the personal lives of others is astronomical. Through peer-to-peer support and advocacy, their gentle touch and support make a notable and important difference in the brain injury community.
Still, there is more work to be done. IPBIS is committed to continuing and pursuing further research in the field, to improve the quality of life for every child and loved one affected by brain injury.
What this award truly means.
The individual who receives the Jane Gillett Award has committed to research, support and ground-breaking initiatives which have impacted the paediatric brain injury community in powerful and meaningful ways. This individual is a trailblazer in the field and deserving of recognition for the positive change their efforts are making in the lives of others.
---
LINKS » Save The Date: Paediatric Acquired Brain Injury Conference 2017
---
Subscribe to our Newsletter