Legal Tech that Builds Client Satisfaction
Every client wants a lawyer who will keep in touch. Here are four technologies that lead to better communication, exceptional outcomes, and lasting client satisfaction.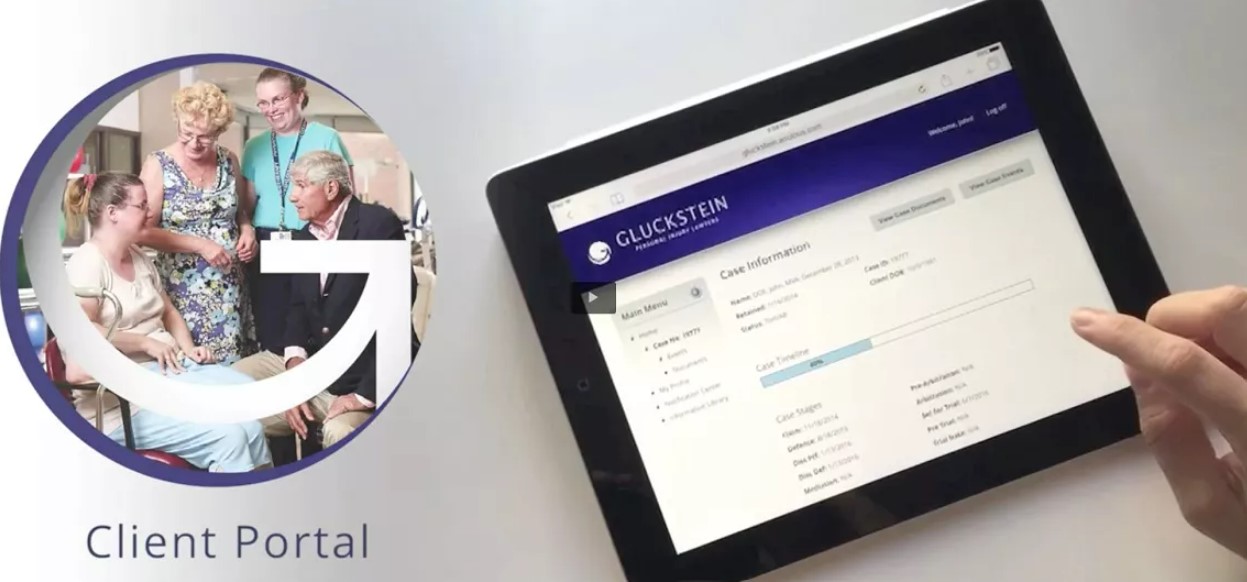 What do the top-rated personal injury firms all have in common? They consistently communicate with their clients.
Clients want lawyers who keep them in the loop. This is what makes firms like Gluckstein Lawyers stand out. Talk with their former clients, Google their online reviews, and you'll find a clear trend: nearly every one mentions their exceptional communication skills. They respond quickly, proactively offer regular case updates, and listen with empathy and care.
It's called client-first care, and it doesn't just create a better process for clients. It also dramatically improves their case outcomes. Because these lawyers listen to clients, they understand the case details better. Because they keep clients informed, their clients become active partners in winning their case. And because they empathize with injured people, they can help judges and juries to empathize as well.
However, legal professionals only have so many hours of their day they can give away. They need time without interruption to research, write, and do the deeper work of building a case. How can they stay close and responsive to clients, without suffering from frequent interruptions?
That's where smart technology comes into play. Lawyers are using new strategies and tools to respond quickly and keep clients informed—while carefully managing their schedule and workload.
Here are 4 tools that allow tech-savvy firms to care for clients while managing their time:
Client Portals
What's the most thorough way to keep clients up-to-date on their cases? Invite them directly into their own case files.
That's what a client portal does. Client portals, like those used by Gluckstein Lawyers, allow clients to review their case status, communicate with their legal team, and upload photos or documents. And since they record everything directly within the case file, they reassure clients that nothing is slipping through the cracks.
We use customer portals all the time, from checking the balance of our bank account to reading the results of a medical test. There's a reason they're popular with bankers and doctors: portals maintain security while encouraging access. In fact, they are one of the most secure forms of lawyer-client communication, and at the same time they are available 24/7.
Personal injury cases can move along at uneven speeds. A flurry of activity might be followed by a long wait. This can feel unsettling or disorienting to clients. But portals help clients feel secure, empowered, and connected throughout the process.
Scheduled Conference Calls
Access to your own case files works wonders. But nothing builds trust and understanding like direct communication. Phone calls help to quickly answer questions and address concerns, without the need for travel. And they also allow the legal team build a deeper rapport with the client.
But there are also draw-backs to phone calls. When they come at unexpected times, they can be disruptive to both clients and lawyers. Because lawyers need uninterrupted time to do their best work, interrupting the flow to get on the phone with any client who calls can hurt their productivity. Since the call is unexpected, often clients have to wait while lawyers or paralegals search for the information and quickly freshen up on the case details. Clients can also feel stressed by lawyer calls that come in the middle of their workday.
One strategy that addresses these problems is scheduling conference calls. With a scheduled call, clients can speak with their lawyer and paralegal at the same time, making sure the entire team is on the same page. And the legal team can prepare ahead of time, making sure the case is fresh in their minds and their ready to quickly answer any questions. Video conference calls can help create a 'face to face' feel, as well as share visual information.
Conference calls can be scheduled for regular intervals, or whenever the client or lawyer feels a need for more communication. And they're valuable not only with clients—they also help lawyers connect with vendors, opposing counsel, and remote members of the legal team.
After-hours Service
Personal injury lawyers face a double-bind. They want to answer every client call, whenever it happens. But they also want to spend quality time with family and friends, and perhaps even get some sleep at night.
The best answer to this conundrum is a virtual receptionist service. 'Virtual' receptionists are real humans—they're just not physically in the legal office. Legal-specific services fully train receptionists in the specific needs of law firms. They're able to talk with callers at any time, day or night, and ensure their needs are quickly addressed by their legal team.
Additional technology allows virtual receptionists to schedule follow-up visits or phone calls on the lawyer's calendar, assign tasks to legal team members, and record new information directly in the case management system. They can also provide intake services for new potential clients. This is particularly important for personal injury attorneys. Many potential clients will reach out soon after an incident. Quickly connecting to an attorney can help them fully document the incident and their injuries, and lead to better case outcomes. But injuries don't respect office hours. Having an empathetic professional answering the phone at that most sensitive time can make all the difference to an injured person.
Cloud-based Case Management Software
But perhaps the best technology for improving client satisfaction is modern case management software. This is the platform that organizes all case files, keeps the entire team on track with deadlines and tasks, and facilitates team collaboration and client communication.
An integrated operating core has been proven to improve productivity, which frees up more time for legal professionals to connect with clients and build better cases. It puts all case information at the fingertips of lawyers and paralegals, ensuring they stay on the same page and can quickly respond to questions. It helps them to stay well ahead of deadlines and move cases forward faster. And because it's cloud-based, it benefits from the strictest security and greatest accessibility. Whether lawyers are working from home or in court, this ensures they have access to all their legal files.
Good case management software is like a sturdy foundation for a house. It gives lawyers the footing they need to build winning cases and lasting relationships of trust.
—————-
Individual lawyers may have the best communication skills and deepest empathy for their clients. But without the right technological support, they risk becoming quickly overwhelmed by the demands of their job and the chaos of interruptions.
That's why firms like Gluckstein Lawyers equip themselves with the technology and strategies that support their values. It leads to less stressful workloads for them and high satisfaction rates from their clients.
Katie Wolfe is a writer at Filevine, the operating core for legal professionals. Filevine's technology helps firms get more done with less effort, and frees them to focus fully on the needs of their clients.
Subscribe to our Newsletter