"Me Before You" Movie., Controversy and Disability Stereotypes
In 2012, Britain's Jojo Moyes wrote the best-selling novel,

Me Before You

, which made its Canadian debut on June 3. The film's boy-meets-girl plot might have otherwise passed under the radar, except that the male lead is a 20-something quadriplegic who wants nothing more than to commit suicide. Activists have already been up in arms, citing its contrived the portrayal of disability.
---
The Movie. features Game of Thrones' star Emilia Clarke as Louisa, the young caregiver to Will, who has grown suicidal since his disability, played by Hunger Games' Sam Claflin. The two fall in love, with Will urging non-disabled Louisa to "live boldly" while he broods over plans for assisted suicide.
Protesters picketed the film's London premiere. Meanwhile, the hashtag #LiveBoldly, the film's tagline, has hit social media, with a controversial splash as seen with the following tweet below by Emily Ladau, Writer, and Disability Rights Activist. Ms. Ladau has long been addressing discrimination by educating and encouraging others to understand the experience of having a disability in more positive, accepting, and supportive ways.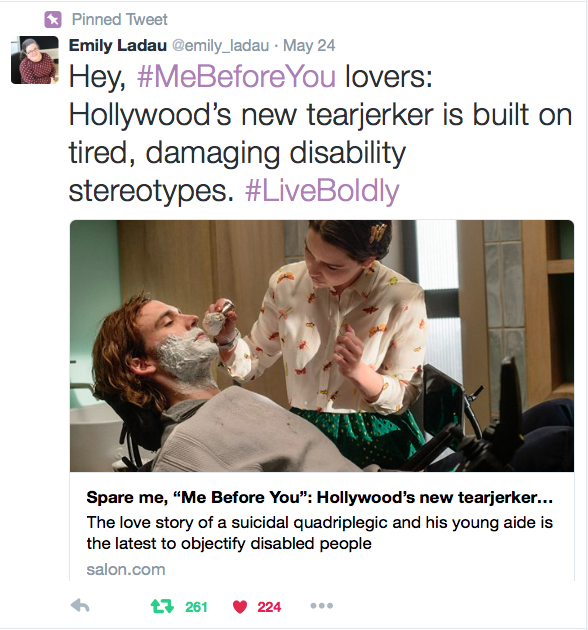 People opposing Me Before You point out that Hollywood already fails to represent the disabled population in films, but when they do, movie - makers exploit the disability experience to elicit strong emotions from viewers. The typecasts typically fall into two camps:
suffering victims who either overcome superhuman odds and, rise to inspirational heights
or, those who lose the battle in a quagmire of depression and self-pity, with death as the only recourse.
Meanwhile, many within the disability community continue to weigh in, expressing that they already 'live boldly'. In fact, life for those with disabilities is not much different than the lives of the non-disabled, except under Hollywood's lens of misrepresentation. Instead of promoting the film, which protestors feels minimizes their right to live, disabled activists have made use of the hashtag, to show that their lives are worth living and they are able to live as boldly as those without disabilities. There have been protests in other parts of the world including Australia, Canada, and various cities throughout the United States including New York, Colorado, Philadelphia, Pittsburgh, Chicago, Baltimore, Los Angeles, Boston, and Berkeley.
Gluckstein Lawyers have long been proponents of public awareness, research, and promotion of the well-being of those impacted by severe spinal cord injury and brain trauma. We're ready to provide guidance, support, and legal advocacy.
---
Comments
Please share your thoughts in "Leave a Comment" found below.
---
LINKS
>> Fresh Hope For Paralysis patients
>> ashtynlaw.com/2016/05/me-before-you-or-if-you-die-i-can-live/
---
Sources:
www.salon.com/2016/05/24/spare_me_this_tearjerker_romance_me_before_you
www.cbc.ca/news/arts/me-before-you-Movie.-controversy-1.3607977
Subscribe to our Newsletter