Nicholson Read - Personal Injury Group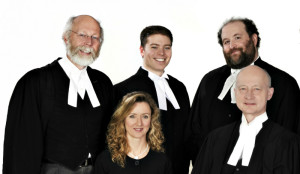 Nicholson Read is the Personal Injury division" of Beament Green, one of Ottawa's most well respected law firms. Our team specializes in helping victims of serious personal injuries caused by motor vehicle accidents, work place related injuries, slip and fall injuries, or any other type of trauma." If you or a loved one has sustained acquired brain injury, medical malpractice, catastrophic injuries, hemi paralysis, spinal cord injury or any other type of injury that is negatively impacting your life, contact Nicholson Read for a consultation. Our lawyers will help devise a plan to help you to regain control of your life both financially and personally.
Derek Nicholson
and John Read have, combined, almost sixty years of experience in dealing with personal injury issues. Together with lawyers Jeff Meleras and Sig Pantazis and licensed paralegal Helen Valentine" they represent clients in personal injury matters. We work on behalf of the plaintiff, not the insurance companies."
Contact us
send
by email
or call us at 613-241-3400
.
We can help.
Subscribe to our Newsletter