Save The Date: Paediatric Acquired Brain Injury Conference 2017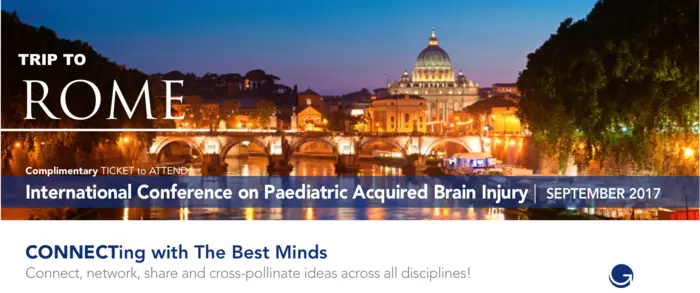 We are committed to raising awareness for brain injury and are thrilled to be participating, once again, at The 2017 International Paediatric Brain Injury Society (IPBIS) which will be held in Rome, Italy.
SAVE THE DATE: September 20 - 23, 2017
At the September 2017 conference, Gluckstein Lawyers will be presenting the Jane Gillett Award. This award celebrates Dr. Jane Gillett's legacy, her contributions to the field of paediatric acquired brain injury in Canada and recognizes other trailblazers who are also making a difference.
Dr. Gillett was at the forefront of brain injury treatment, acting as a paediatric and adult neurologist. As founder and president of the International Paediatric Brain Injury Society, she greatly impacted both the local and international community with her dedication to acquired brain injury research.
We were privileged to work alongside Dr. Gillett and call her a friend.
Corporate Giving » Three To Be heading to Rome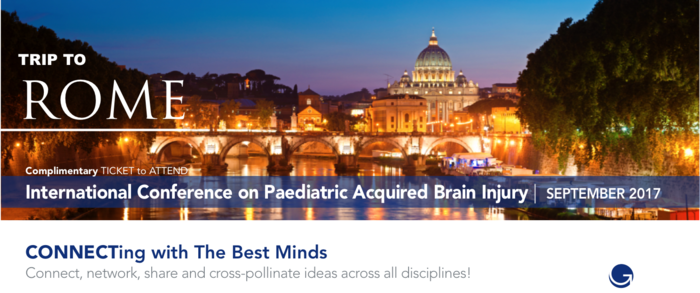 At Three To Be's Connect Dinner fundraising event this past October, Gluckstein Lawyers donated an all-expenses paid "Trip to Rome, Italy" for the 2017 International Conference of Paediatric Acquired Brain Injury. This gift includes:
Complimentary Registration to the Paediatric Acquired Brain Injury Conference;
Accommodations and Flight to Rome, Italy;
Networking opportunity to connect, share, collaborate with multi-disciplinary professionals from across the globe;
The opportunity to submit an Abstract for presentation at the conference.
In 2017, "infinite possibilities" to the neurologically-challenged will be explored by multi-disciplinary professionals and experts from across the globe. They will come together to connect, share, network and cross-pollinate their ideas with those who share the same goal: improving the outcome and the quality of life for children with acquired brain injury.
With theme "New Strategies to Improve Outcome and Quality of Life", the 2017 Conference will focus on:
the development of new assessment tools;
innovative therapies and devices;
rehabilitation programs;
teaching Strategies;
psychological and social support;
increasing potential recovery in young people affected by brain injury;
giving support to those families affected by ABI.
Gluckstein Canadian Hospitality Suite
In addition, we will be hosting a Canadian Hospitality Suite. If you are attending the IPBIS Conference in 2017, please be sure you stop by our hospitality suite. If you are not able to attend but would like to post a message on our IPBIS message board, please send your message via the comment section below.
Since 1962, Gluckstein Lawyers have helped ABI clients move forward with dignity, respect and trusted experience. Celebrated pioneers in personal injury, the firm is an award-winning industry leader in neuro-trauma (brain injury), as well as spinal cord injury and serious orthopaedic injuries.
Subscribe to our Newsletter