Spinal Cord Injury Ontario presents the Junior Board of Directors
Spinal Cord Injury Ontario (SCI Ontario) has recently established a new junior board and one of our own lawyers, Jan Marin, is a part of it! Save the Date: Tuesday, September 23, 2014! Come celebrate with Jan and the new Junior Board of Directors at the Launch Party!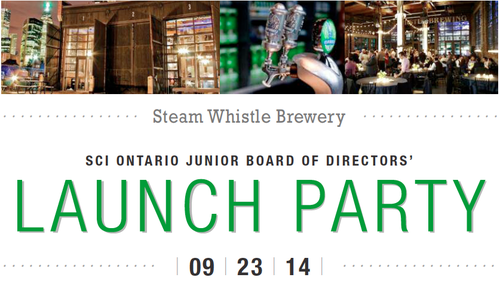 Come out for our "Pub Night"!
Join us for an evening of networking and fun to provide support and much-needed resources for Spinal Cord Injury Ontario. Tuesday, September 23, 2014From 6:30 pm to 9:30 pm Steam Whistle Brewery, 255 Bemner Blvd, Toronto M5V 3M9 PARKING: Please note that there is no onsite parking at the Brewery. There are several paid parking lots in the area, the closest is in the MTCC parking lot accessed from Lower Simcoe Street.
---
Admission
Your purchase of 1 admission ticket to the SCI Ontario Junior Board of Directors' Launch Party includes:
Brewery Tour
Hors d'oeuvres
1 Drink Ticket
Raffles
Entertainment
Tickets for this event are available for purchase:
Online $45/person

$50/person at the door
---
Support Us
Spinal Cord Injury Ontario assists people with spinal cord injuries and other physical disabilities to achieve independence, self-reliance and full community participation. It is our vision to champion excellence in service, advocacy and quality of life for people living with spinal cord injuries. By attending this event, you will be contributing to and supporting SCI Ontario's continued efforts.
---
Sponsorship
If you are unable to attend or wish to further participate in the event, there are various sponsorship opportunities available. These sponsorship opportunities are great for any business, big or small, as it provides you with an opportunity to advertise and network with young professionals in the area.
Please click on PDF below:
Junior_Board_Sponsorship_Opportunities_2014.pdf
TOPICS OF INTEREST:
Subscribe to our Newsletter