The Self-Driving Vehicle Revolution: Are You Ready?
As we move from the information age to artificial intelligence, we encounter increased distractions and new demands from technology in our lives. The area of transportation, via the self-driving vehicle by 2020, is nearing the greatest challenges and changes since the advent of the combustible engine.
From today and into the future technology companies are aiming to take human error out of transportation. The effect on accidents, insurance, healthcare, and other industries will be profound.
Are you ready for the future?
---
Blog Series | Part 1. Preparing for and Benefits of Autonomous Vehicles
Preparing for the future
In the world of self-driving vehicles (autonomous), if excitable techno-optimists and cautious traditionalists can agree on one thing, it is that the future will be driverless. The question is not if driverless technology will fundamentally change motor-vehicle transportation in Canada, the U.S., and the world, but when and how.
Personal injury lawyer Eric Turkewitz has asked whether driverless cars will eviscerate the personal injury bar.1 My best guess is, not for a while, and certainly not by 2020. However, new data from the Society of Motor Manufacturers and Traders indicates that more than 50% of cars purchased in 2015 were partially autonomous, equipped with collision warning systems, adaptive cruise control, autonomous emergency braking and blind spot monitoring.2 Mainstream adoption is expected as early as the late 2030's.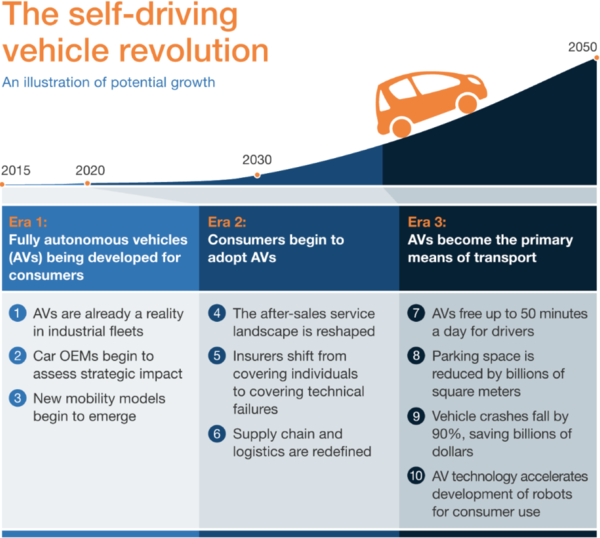 Source: McKinsey & Company
Benefits of autonomous vehicles
Interested stakeholders are steadfastly pushing for expedient adoption of autonomous technology, which, once mainstream promises that drivers will have more time, parking will become easier and accident rates will drop.3 Researchers predict that the time saved by commuters could reach 50 minutes per day, the global aggregate totalling 1 billion hours per day.4 Autonomous vehicles will change the need for parking space potentially freeing up 5.7 billion square metres in the United States alone.5 Lastly, autonomous vehicles will eliminate human error and therefore the total number of accidents--KPMG researchers predict by as much as 80% by 2040.6
The effect of autonomous vehicles will extend beyond the automotive industry. First, autonomous vehicles will reduce government spending. In 2012 car accidents cost the United States economy $212 billion.7 An 80% reduction of accidents will certainly lessen the burden on our healthcare system. Next, autonomous vehicles programmed to obey traffic rules have the potential to cut the need for police officers in half.8 The benefits of this reduction are less government spending and fewer police deaths resulting from dangerous traffic conditions.9 Second, autonomous vehicles may have positive environmental implications. As mentioned, it is anticipated that significantly less space will be required for parking. There is an opportunity to convert former parking spaces into green spaces and to eliminate the detrimental impact of parked cars. Further, as stated by Dave McCreadie, Ford Motor's general manager of electric vehicle infrastructure: "If you have a fully autonomous car that talks to other cars and traffic signals, then it can drive more smoothly, much better than a human can, and there will be fuel economy benefits coming out of that."
Barriers to Adoption... Blog Part 2 to follow in this exciting blog series! Share, like, comment, discuss!
Written by Charles E. Gluckstein, Gluckstein Personal Injury Lawyers, ©2016
---
Sources
http://www.newyorkpersonalinjuryattorneyblog.com/category/class-action
http://www.express.co.uk/life-style/cars/656070/Half-new-cars-self-driving-technology
http://www.mckinsey.com/industries/automotive-and-assembly/our-insights/ten-ways-autonomous-driving-could-redefine-the-automotive-world
Ibid.
Ibid.
https://www.kpmg.com/US/en/IssuesAndInsights/ArticlesPublications/Documents/automobile-insurance-in-the-era-of-autonomous-vehicles-survey-results-june-2015.pdf
Supra note 3.
http://www.newsweek.com/driverless-cars-will-put-half-our-cops-out-work-314612
Ibid.
Subscribe to our Newsletter