Toronto Welcomes the 2017 Invictus Games for Canada's 150th
The 3rd Invictus Games are taking place this week in Toronto, Canada. This Paralympic-style multi-sport event invites wounded, ill or injured armed personnel and their associate veterans from all around the world to compete in a variety of sports. The 1st Invictus Games took place in 2014 in London, England, and the 2nd in 2016 in Orlando, US.
---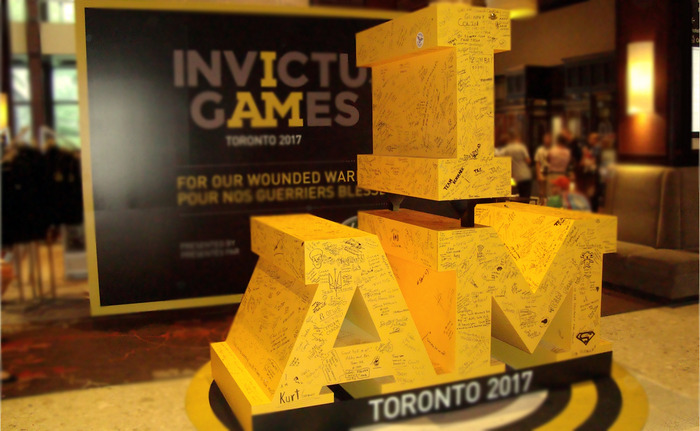 The Invictus I AM installation, signed by parasport athletes and their families, friends and supporters, is currently on displayed at the Sheraton Centre Toronto, Canada
---
Toronto is a bustling city this week (more so than usual) -- for Canada's 150th, we're honoured to host the 3rd year for such an empowering global event. For those who served in both Canada and around the world, we at Gluckstein Lawyers express our deepest gratitude for the sacrifices made to protect the liberties and freedoms of others.
The games continue to grow.
Only in its 3rd year, the Invictus Games are continuing to expand rapidly. This year, the Games are bringing together more than 550 competitors from 17 nations for 8 days of competition. On top of the countries who have competed in 2014 and 2016, Ukraine and Romania are taking part in their first ever Invictus Games right here in Toronto.
The 2017 Games have also introduced the first-ever Invictus Games relay, which ignited the Invictus Games spirit across all 32 Canadian military bases to launch the official beginning of the 8-day competitions.
What to expect in the line-up this week.
Prince Harry of Wales created the Invictus Games to inspire wounded soldiers on their journey to recovery following injury and trauma suffered while serving.
The adaptive sports in this week's Games include archery, athletics, indoor rowing, powerlifting, road cycling, sitting volleyball, swimming, wheelchair basketball, wheelchair tennis and wheelchair rugby. New to the line-up this year will be golf.
The impact of the Invictus Games.
The Games are powering forward to bring awareness and support to all servicemen and women. The Games highlight the importance of understanding that injuries, whether visible or otherwise, are life-changing, and that many of those who served are living with these circumstances.
The resounding message of the Invictus Games is as follows: courageous men and women are on a road to recovery and find the bravery and motivation to move on without being defined or limited by their injuries.
We continue to be inspired by their strength and valour every single day.
LINKS
SLIDESHOW | ParaSport Evening For Inclusion
Subscribe to our Newsletter