16th Annual Complimentary Compassion Fatigue Conference
GIVING BACK: Nourish The Mind, Body, Heart & Soul
The 16th Annual Complimentary Compassion Fatigue Conference, presented by Gluckstein Lawyers, is a unique event for healthcare professionals, lawyers, educators, other professionals and caregivers to learn more about self-care while nourishing their mind, body, heart and soul. We are excited to invite you to register and join us for this empowering event.
The conference, taking place virtually on May 16, 2023 from 9:00 AM - 12:00 PM (EST), will offer attendees engaging and informative sessions focused on finding contentment within our professional and personal lives. This year's conference promises to be unique as it provides an exciting twist!
The theme of this year's conference is "GIVING BACK: Nourish The Mind, Body, Heart & Soul," and we are committed to providing you with an opportunity to learn, heal, and connect with others. Attending our conference will enable you to learn new skills, connect with others, and find support and resources for your healing journey.
We are thrilled to announce that our conference will feature two keynote speakers: Adrienne Patterson and Sharlene Styles. Adrienne will share her powerful story of being a trauma survivor, while Sharlene will present, create and moderate a 7-Day Wellness Challenge to help us prioritize self-care and holistic wellness.
Don't miss this incredible opportunity to nourish your mind, body, heart, and soul. Register now to secure your spot at the 16th Annual Complimentary Compassion Fatigue Conference!
Take a breath, take care of your emotional well-being and replenish your energy reserves.
What You'll Learn
Sharlene's presentation will explore the relationship between nourishment and overall well-being. As a holistic health coach, she will begin by introducing the importance of nourishment in determining overall health and well-being. Sharlene will discuss the significance of a balanced diet, the impact of different types of foods and nutrients on different aspects of health, and the importance of listening to your body.
The presentation will then take a holistic approach to well-being, going beyond just what we eat to include factors such as environment, relationships, sleep, and lifestyle.
Sharlene will highlight the interconnection of these different aspects and how they all impact overall health. The presentation will provide concrete examples of how making changes in one area can have a positive impact on overall well-being.
The presentation will also discuss the positive benefits that volunteerism and community service have on mental and physical health. Personal anecdotes and studies will be shared to illustrate these benefits.
To conclude, Sharlene will invite the audience to join a virtual group challenge to put the insights gained into practice in a meaningful way. Overall, this presentation will provide a comprehensive understanding of how a holistic approach to nourishment and well-being can help individuals achieve optimal health and well-being.
The 7-Day Wellness Challenge
Sharlene Styles is a certified holistic nutritionist, metabolic balance coach, holistic life coach, yoga instructor, and meditation teacher. She will share her journey of healing and recovery and how she uses holistic practices to manage her symptoms and support her mental and physical health. Sharlene will lead us through her week-long 7-Day Wellness Challenge.
The 7-Day Challenge is designed to help participants enhance their well-being by implementing five simple strategies that can be easily incorporated into their daily life.
The strategies include ensuring proper hydration, eating greens, engaging in minimal exercise, prioritizing Zen time, getting proper 7-9 hours of sleep, and giving back through charitable acts or services. Participants will be invited to join a Facebook Group for community and sharing, where daily prompts for the 7-day challenge will be provided. Participants can access these prompts through email or the Facebook Group.
Participants will also receive an e-book to guide them through the challenge. Additionally, there will be a live virtual check-in call via Zoom.
The objective of this challenge is to create excitement about simple, attainable changes that can have a direct and steadfast impact on overall health when practiced consistently. The holistic approach to nourishment and well-being will be discussed, paying important attention to the interconnection of diet, environment, relationships, sleep, and lifestyle. The benefits of giving back through volunteerism and community service will also be emphasized. Overall, this challenge is an opportunity for participants to learn, share, and grow together, and to enhance their health and well-being by implementing simple, easy habits on a daily basis.
The 7-day wellness challenge will start on May 23, 2023, and run to May 30, 2023.
Event Agenda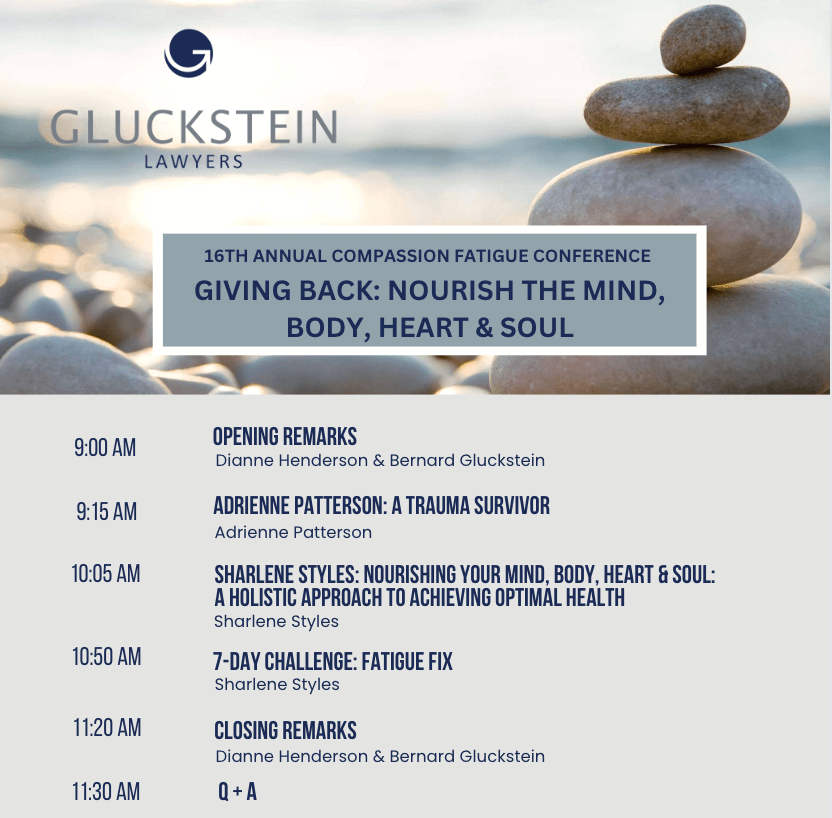 Speakers.
Sharlene Styles is a highly respected nutritionist and holistic life coach with over a decade of experience. With her engaging and relatable approach, she delivers practical and actionable advice that inspires lasting change. Sharlene's expertise in nutrition and holistic wellness has been honed through years of creating personalized plans that nourish the mind, body, heart, and soul. Attendees of our upcoming event can expect a thought-provoking talk that will leave them feeling motivated to embrace a more holistic approach to wellness with Sharlene's strategies designed to empower and inspire.

Adrienne Patterson has been an Ontario Educator for over 25 years, with experience as an Elementary School Teacher, Consultant, and Administrator. Her teaching centred on adolescent-aged students, specializing in Special Education and Behavioural Supports. She later became an Elementary School Vice Principal dealing primarily with vulnerable student populations and community organizations outside the School System. Her current research and advocacy are centred on Empathic Stress, PTSD, Self-Care, strategies to manage Chronic Illnesses and Injuries, Invisible Disabilities, and Trauma Informed and Supported Medical Care.

This research has been gained through personal life experiences both occupationally and as a parent, and the recognition of Adverse Childhood Experiences' impact on her overall health. After a number of traumatizing events, and many years of working with the injuries and damage to her health and well-being, Adrienne has gained a wealth of knowledge, experiences, and skills that have enabled her to continue to improve in her recovery and advocate for others. Her passion is giving back so that others, who have been impacted by Compassion Fatigue and/or Occupational PTSD, can learn that when our physical, mental, and emotional health suffers as a result of our life's work, it is not a character flaw or a source of shame. Instead, these difficult experiences can provide an opportunity to recover these areas of health through Self-care, Self-compassion, and utilizing skills and strategies to lead a more grounded, healthy and joyful life…even in the face of continued adversity.