Presenting Sponsor - An Evening in the Courtyard
---
Gluckstein Personal Injury Lawyers are a proud continued sponsor of the Hotel Dieu Shaver Health and Rehabilitation Centre in St. Catharines. On Saturday November 14, 2015 Hotel Dieu Shaver are hosting their annual fundraiser, An Evening in the Courtyard, and Gluckstein Lawyers are the presenting sponsor.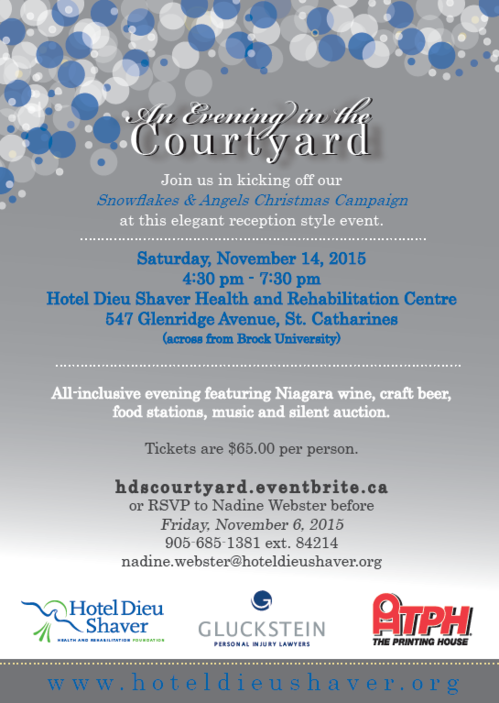 ABOUT

Snowflakes and Angels
Each year Gluckstein Personal Injury Lawyers sponsor this event, which is their Snowflakes & Angels Christmas Campaign kickoff celebration event. This year the festivities are from 4:30 p.m. to 7:30 p.m. in their transformed facility. This fun-filled evening will feature Niagara wine, craft beer, food stations, music and a silent auction.
The Hotel Dieu Shaver Health & Rehabilitation Foundation strives to provide exemplary patient care which makes their Snowflakes & Angels Christmas Campaign so important. Last year they raised $60,000 through this event, with funds supporting state-of-the-art rehabilitation therapy equipment. This directly contributes to the overall patient care experience at Hotel Dieu Shaver and we could not be more appreciative for this as many of our clients are located in the Golden Horseshoe area.
---
RSVP
If you are interested in attending this event please contact:
Nadine Webster l 905.685.1381, Ext. 84214
---
Contact Us in Niagara
Gluckstein Personal Injury Lawyers advocate for clients living in the Golden Horseshoe Area, between Hamilton to Fort Erie, from their branch office located in Thorold, Ontario (3350 Merrittville Highway).
To learn more about our personal injury law work in Niagara or throughout Ontario, schedule a free consultation with our team.
You can also contact us online.
Niagara Area Residents l 905.228.6169
Toronto Area Residents l 416.408.4252
Toll-free l 1.866.308.7722
Comments
If you will be attending this year's event, we would love to hear from you - please leave your comments below!
Personal Injury Law
Since 1962, Gluckstein Lawyers have helped clients move forward with dignity, respect and trusted experience. Celebrated pioneers in personal injury, the firm is an award-winning industry leader in neuro-trauma (brain injury), spinal cord injury and serious orthopedic injuries.
L I N K S l
1. https://www.gluckstein.com/blog/2015/07/niagara-news-hotel-dieu-shaver-foundation-board-of-directors
2. https://www.gluckstein.com/blog/2015/07/niagara-news-hotel-dieu-shaver-rummage-sale-bbq-fundraiser
R E F E R E N C E S l
1. http://www.hoteldieushaver.org/site/blog/2015/07/21/an-evening-in-the-courtyard-november-14-2015
2. http://www.hoteldieushaver.org/site/blog/2014/01/30/snowflakes-angels-christmas-campaign-raises-60000
Subscribe to our Newsletter