Niagara News: Hotel Dieu Shaver Rummage Sale & BBQ Fundraiser
---
On June 26 2015, Gluckstein Personal Injury Lawyers participated in Hotel Dieu Shaver's Rummage Sale and Barbeque, which was held in the gardens of the Glenridge Avenue facility.
Gluckstein Personal Injury Lawyers would like to express our gratitude for The Hotel Dieu Shaver Health and Rehabilitation Centre in St. Catharines. Their services support many individuals and clients of the firm that are located within the Golden Horseshoe area.
The barbeque lunch featured a 50/50 Draw with funds raised supporting Hotel Dieu Shaver's patient care equipment.
---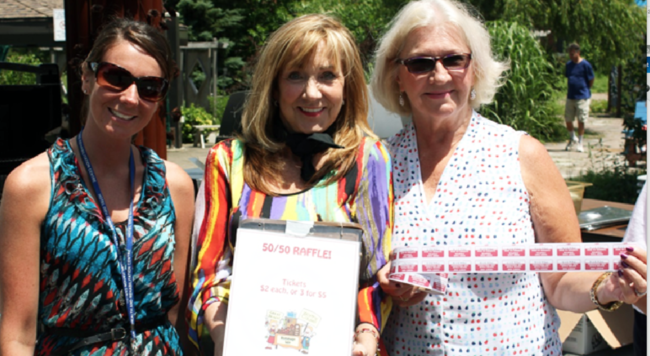 PHOTO l Left, MaryJane Johnson, Director, Communications, Hotel Dieu Shaver; Dianne Henderson, Gluckstein Lawyers and Hotel Dieu Shaver Foundation Trustee (middle); Carolyn Bergeron
---
The Hotel Dieu Shaver is Niagara's Centre of Excellence for rehabilitation and complex care, with funds raised going to support exemplary patient care through the purchase of patient-care equipment and improvements to the overall patient care experience.
Gluckstein Lawyers In-House Medical Consultant, Dianne Henderson is proud to serve on the Hotel Dieu Shaver Foundation's Board of Trustees.
Contact Us in Niagara
Gluckstein Personal Injury Lawyers advocate for clients living in the Golden Horseshoe Area, between Hamilton to Fort Erie, from their branch office located in Thorold, Ontario (3350 Merrittville Highway).
To learn more about our personal injury law work in Niagara or throughout Ontario, schedule a free consultation with our team.
You can also contact us online.
Niagara Area Residents l 905.228.6169
Toronto Area Residents l 416.408.4252
Toll-free l 1.866.308.7722
L I N K S l
1. https://www.gluckstein.com/About/Niagara-Office
Subscribe to our Newsletter