Canadian Lawyer Magazine Top 25 Most Influential Lawyers in Canada – Voting is Open!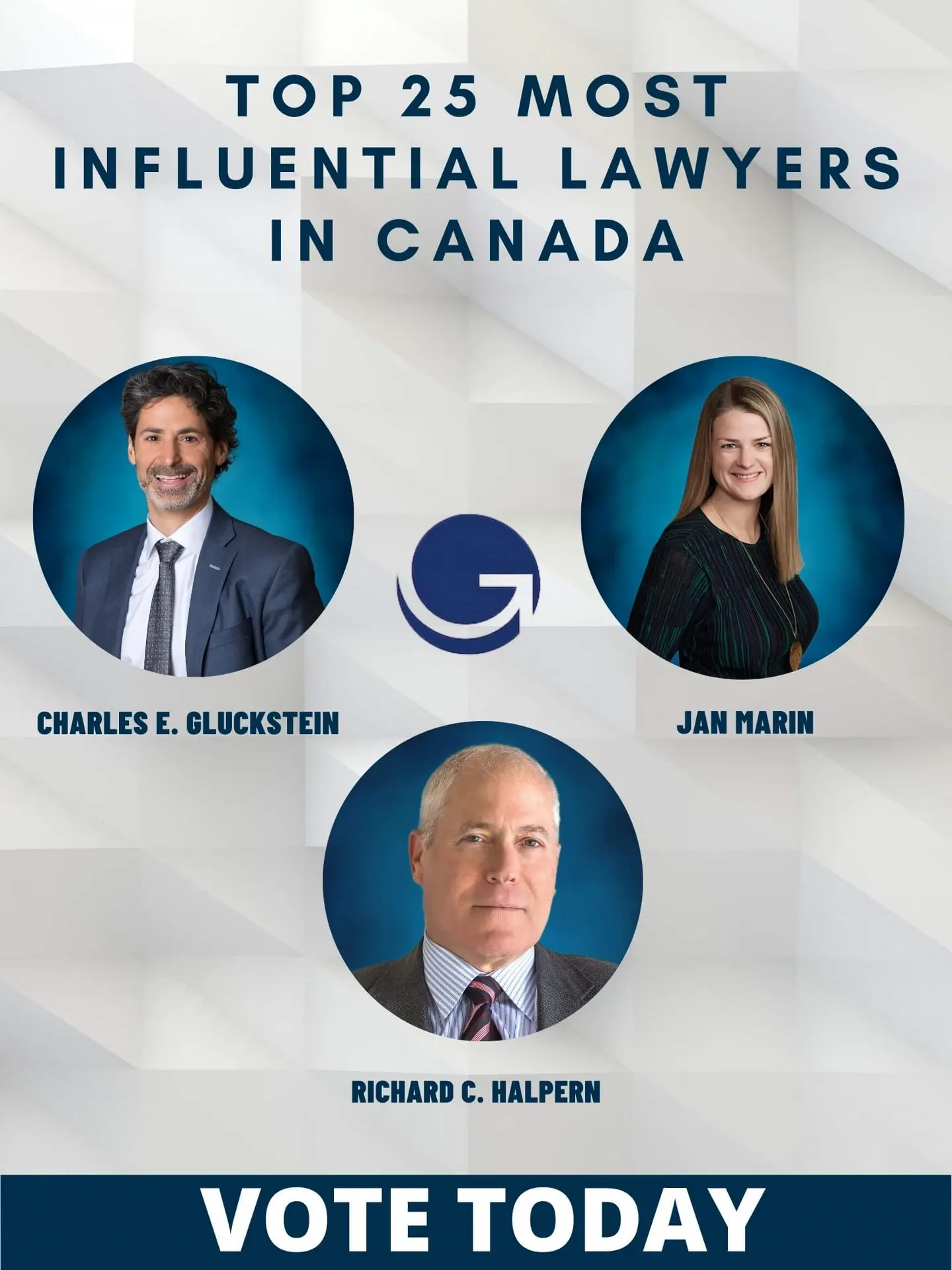 Canadian Lawyer Magazine's Top 25 Most Influential Lawyers in Canada 2021 is Open! Voting ends on June 25, 2021.
We are proud to announce three lawyers from our firm have been nominated in the category of Changemakers. We hope you will consider showing your support for those Gluckstein Lawyers who are being recognized. The best compliment you can give us is your endorsement - it only take a few minutes to complete the survey. "
Who can vote?
The survey is open to all members of the community.
Where?
Please help rank us in the Top 25 Most Influential Lawyers in Canada 2021 via this online survey.
How?
The simple survey takes only 1 minute to complete!
There are five categories. You can choose to vote in all five or just one. That is up to you!
You can select up to a maximum of 5 lawyers per category.
Add any additional comments (this is optional).
Click "Done" to complete the survey!
Highlighting our nominated lawyers
Charles E. Gluckstein, the Managing Partner of Gluckstein Lawyers, led Gluckstein Lawyers into three strategic in 2020 to expand its reach in Ontario and offer clients an enhanced level of innovation, expertise and experience. He has embraced innovation and technological advancements and has worked tirelessly to modernize his practice to meet our times' challenges and better serve clients. He is known in the legal community for his passion for technology and how it can be used to run a more efficient, productive and client-focused law firm. In May 2021, Gluckstein Lawyers was proud to be the recipient of an Excellence Award from Canadian Law Awards 2021 for Best Use of Technology in a Law Firm.
Richard Halpern, Senior Counsel and Lawyer acts exclusively for injured people in medical negligence cases, focusing on infants injured at or around the time of birth. Richard has come to recognize the critical role that medical literature plays in proving how and when babies become injured. He also understands that some of the scientific literature relied upon to resist these claims may not be truly reliable. Where medical literature is deficient, there is a danger that it will be invoked by those attempting to avoid liability. If accepted as authoritative, it will deprive some babies with meritorious claims of access to justice. One of his most recent papers is titled, "Fetal surveillance in labour, a review of SOGC 2020 guideline 396: oversights, omissions and opportunities squandered." Richard's detailed review and critique of the new SOCG guideline had two objectives in mind: first, to ensure that medical "science" does not place spurious obstacles in the way of access to justice for babies and their families; and, second, to encourage real change in labour and delivery practice that will reduce the incidence of newborn neurological injury. Richard is a persuasive and fearless advocate for affected children and their families. He will continue to pursue change that will positively impact the way care is provided and ultimately minimize catastrophic injuries to newborns. He is a force to be reckoned with when it comes to protecting what he calls "his babies."
Jan Marin, a Senior Associate and Lawyer, was one of two lead lawyers involved in a significant medical malpractice victory in the Supreme Court of Canada on January 18, 2021, following ten years of litigation and court battles. Not only did this win mean a brighter future for her client, but it sets an important precedent for every person injured or may be injured by medical negligence. Jan's role, in this case, was vital because she understood the medicine and was willing to see the case through to the Supreme Court. Jan served her client and contributed to shaping the law of this country.
Thank you for your ongoing support!
It means so much to us. We congratulate all other nominated lawyers this year and would like to express our gratitude to Canadian Lawyer Magazine for the opportunity to be a part of this important survey among our colleagues and peers.
Subscribe to our Newsletter