2015 IPBIS Conference - Jane Gillett Family Remarks
---
This September, Gluckstein Lawyers attended the First International Paediatric Acquired Brain Injury Conference (IPBIS) in Liverpool. We were thrilled to participate in this inaugural conference; most notably, we were honoured to present the Jane Gillett Award to Dr. Shari Wade.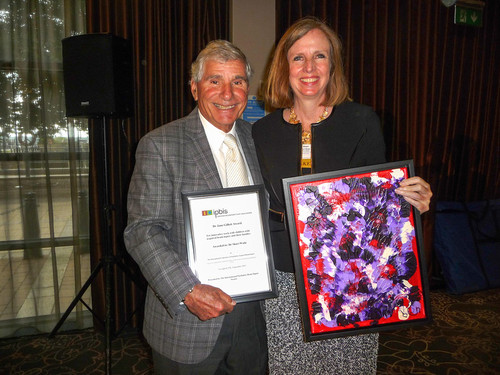 PHOTO l Bernard Gluckstein with Dr. Shari Wade
This award celebrates Dr. Jane Gillett's legacy and in particular her contributions to the field of paediatric acquired brain injury, while recognizing other trailblazers who are also making a difference.
---
IPBIS Conference Photos

Gluckstein Lawyers in Liverpool, England for Inaugural IPBIS Conference 2015
> IPBIS Conference Photos click here
---
Message from Jane Gillett's Parents
---
Dr. Jane Gillett's parents shared their remarks on this inaugural Award and their daughter, Dr. Jane Gillett, Founder of IPBIS.
Because she left us so young with her work incomplete, Jane's friends and colleagues have been determined to develop her ideas further; to share them, and to keep the memory of her work ongoing. One result made by IPBIS is the Dr. Jane Gillett Award to be given every second year to the professional voted to have made the greatest contribution to ABI rehabilitation. I, Jack, and all the Gillett connection are delighted to know that you all remember our Jane and continue to work to improve the rehabilitation of so many brain injured children all around the world.
We know Jane is please with all your work. We recall how she talked often about the need for the medical profession to be concerned with more than 'just' stabilizing a patient after a brain injury. She used to say, even before she entered medical school, that the important work for doctors was the treatment AFTER the patient was sent home. We know that early in her career Jane developed a diagram to show the various connections of all the family members and community people who had influenced an individual before a brain injury and who, therefore, should be working directly with an injured child to integrate him/her as much as possible into his/her home and community life. The diagram has been called a beautiful flower and is the symbol of Jane's work.
We wish we could be with you today to shake the hand of the first recipient of the Dr. Jane Gillett award - - "Congratulations, Dr. Shari Wade for being the first winner of the Award and thank you all for continuing Jane's work"
- Ruth and Jack Gillett
---
R E F E R E N C E S l
Since 1962, Gluckstein Lawyers have helped clients move forward with dignity, respect and trusted experience. Celebrated pioneers in personal injury, the firm is an award-winning industry leader in neuro-trauma (brain injury), spinal cord injury and serious orthopedic injuries.
L I N K S l
1. https://www.gluckstein.com/blog/2015/07/jane-gillett-award
2. https://www.gluckstein.com/blog/2015/02/pediatric-acquired-brain-injury-1st-international-conference---details
Subscribe to our Newsletter