Sponsorship: CACCN Evolution in Critical Care
Every year, the CACCN's Evolution in Critical Care Conference continues exploring quality care and the evolution of critical care.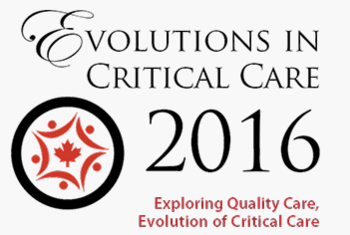 ---
The CACCN is an association that strives to implement standards for the critical care nursing field.
All of which is intended to better serve the residents and nurses in the Toronto area. This annual conference is part of this process, "Through practice we seek out educational opportunities, facilitate critical care nursing research, provide networking opportunities, identifying and address professional issues and collaborate with other professional organizations."
---
Event Details
---
THEME: "Present and Future Practices" focusing on evidence-based topics to enhance clinical practice, leadership, education, and research within the critical care setting.
DATE & TIME: Monday, May 2, 2016 from 7:00 a.m to 5:00 pm
LOCATION:
The Bram & Bluma Appel Salon in the Toronto Reference Library 789 Yonge Street, Toronto, Ontario M4W 2G8
---
Conference Guest Speakers
---
CACCN guest speakers and presenters will be discussing a variety of topics in their expertise including cardiovascular, neurological, trauma, medical-surgical, and paediatrics. Due to the success of previous year's we have enlisted presenters with a background in critical care. Below we have outlined the speakers in order of presentation:
Brenda Morgan, RN, BSCN, MSc, CNCC (C), CNS Critical Care Trauma Centre
Mary Mustard, RN(EC), MN, CCN(C), CNCC(C), Nurse practitioner-Adult, CVICU, St. Michael's Hospital
Jennifer Kangalee, RN
Suzanne Ezekiel, RN
Karen Johnson, RN, BHSc, BScN (E/CC), ENC(C). M.Ed Director, Hospital Programs, Trillium Gift of Life Network
Dr. Jacob Pendergrast
Giles Scofield, Clinical Ethicist Centre for Clinical Ethics, St. Michael's Hospital
Sally Bean, JD, MA. Ethicist & Policy Advisor, Sunnybrook HSC
Jennifer Gibson, Head of Joint Center for Bioethics
Elise Paradis, Ph.D., Assistant Profession, Leslie Dan Faculty of Pharmacy & Department of Anesthesia, Faculty of Medicine, and Scientist at The Wilson Centre
---
Gluckstein Lawyers l Stop by Our Conference Booth!
---
Gluckstein Lawyers are a proud Sponsor of the annual Canadian Association of Critical Care Nurses (CACCN) Evolution in Critical Care Conference (Toronto Chapter) on May 2, 2016. We hope to see you at this year's conference; be sure to visit the Gluckstein Lawyers' booth.
---
Comments
| Share your thoughts in "Leave a Comment" found below.
---
L I N K S
>>
Gluckstein Sponsors - CARE4YOU: Compassion Fatigue 2016
>>
The Eleventh World Congress on Brain Injury
Subscribe to our Newsletter