2015 Toronto Collaborative Neuroscience Symposium
---
The 2015 Toronto Collaborative Neuroscience Symposium (TCNS) is being held November 5-6, 2015 at the Courtyard Marriott in Toronto. This annual educational event brings together health care professionals specializing in the neurosciences from across our Nation. (Formerly known as Krembil Neuroscience Symposium.)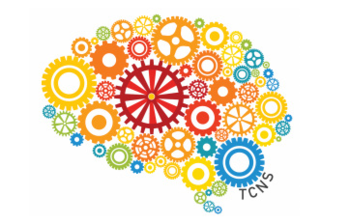 For your reference, please find below some of the presentation topics: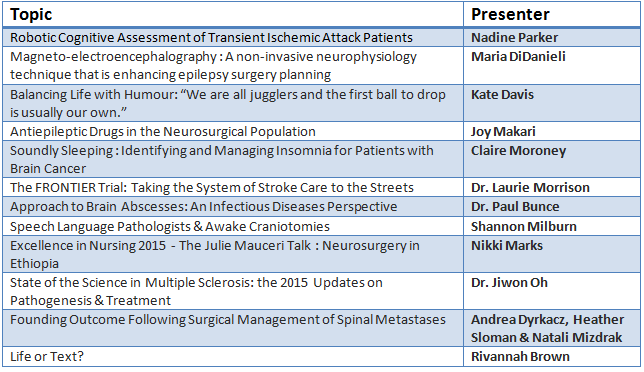 ---
P R O G R A M l Thursday November 5, 2015
---
MORNING PRESENTERS
Dr. Laurie Morrison, The FRONTIER Trial (Stroke Care)
Dr. Paul Konkgham, Surgical Management, Primary and Metastatic Brain Tumours
Nadine Parker, Robotic Cognitive Assessment of Transient Ischemic Attack Patients
Maria DiDanieli, Magneto-Electroencephalography, A Non-invasive Neurophysiology Technique That is Enhancing Epilepsy Surgery Panning
Kate Davis, Balancing Life with Humour
AFTERNOON PRESENTERS
Joy Makari, Antiepileptic Drugs in the Neurosurgical Population
Claire Moroney, Soundly Sleeping: Identifying and Managing Insomnia for Patients with Brain Cancer
Alisha & Melinda Cartwright, Positive Attitude
Dr. Howard Ginsberg, Modern Spinal Surgery in a Busy Level One Trauma Centre
Shannon Milburn, Speech Language Pathologists & Awake Craniotomies
---
Comments
Will you be attending this year's Toronto Collaborative Neuroscience Symposium (TCNS)? We would love to hear from you - please leave your comments below!
---
R E F E R E N C E S l
Since 1962, Gluckstein Lawyers have helped clients move forward with dignity, respect and trusted experience. Celebrated pioneers in personal injury, the firm is an award-winning industry leader in neuro-trauma (brain injury), spinal cord injury and serious orthopedic injuries.
1. www.torontocollaborativeneurosciencesymposium.ca L I N K S l 1.
Sponsorship: BIST Heroes Run, Walk & Roll Event
2.
2015 IPBIA Conference - Jane Gillett Family Remarks
Subscribe to our Newsletter