Charles Gluckstein and Jonathan Burton Recognized in Post City Magazines' Top Toronto Lawyers, 2023.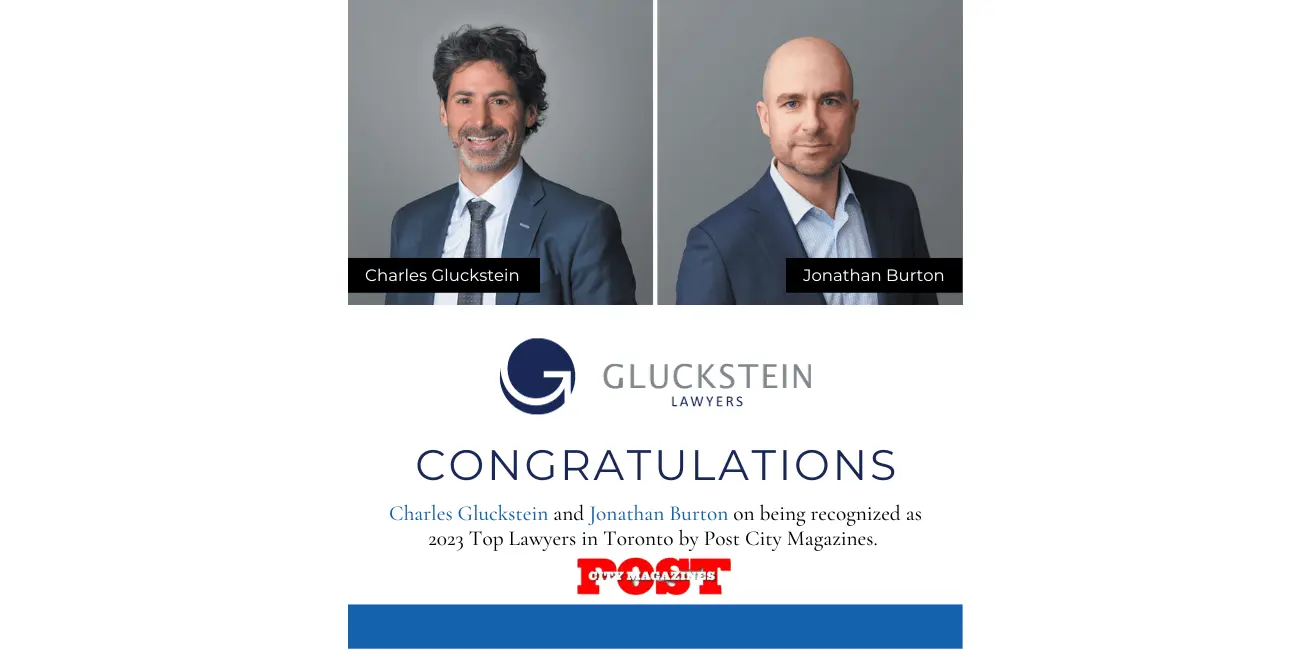 Post City Magazines has recognized Charles Gluckstein and Jonathan Burton in its listing of Toronto's Top Lawyers 2023. This publication requests that peers from the legal community vote on the best lawyers in each field in Toronto and curates a listing based on the answers.
Charles Gluckstein is a highly accomplished lawyer and the Managing Partner of Gluckstein Lawyers, a preeminent personal injury law firm in Toronto, Canada. Charles has become a respected advocate for his clients, dedicated to seeking justice for those who have suffered injuries due to negligence. His expertise, compassion, and unwavering commitment have earned him recognition as a leading figure in the legal community. Under his leadership, Gluckstein Lawyers has earned a reputation for providing unparalleled full circle care and expert legal services to their clients. Charles has been successful at trial in both jury and judge alone cases. He frequently lectures at conferences for legal organizations, both locally, as well as outside of Ontario, on all topics of personal injury as well as the modernization of the profession using technology.
Jonathan Burton is a Senior Associate at Gluckstein Lawyers, his practice focuses on insurance litigation, including personal Injury, disability matters, occupier's liability, medical malpractice and product liability. With over 18 years of experience, Jonathan has established himself as a knowledgeable, compassionate, and dedicated personal injury lawyer. He joined the firm in 2005 and has since been instrumental in providing expert legal representation to clients seeking justice for their injuries. Jonathan's broad expertise and commitment to his clients make him an invaluable member of the Gluckstein Lawyers team.
To read the listing in the November edition of North Toronto Post (one of Post City Magazines) click here.
Subscribe to our Newsletter