Fundraiser: Experience Laughter and Generosity at Second City All-Star Benefit
Even amid tragedy, laughter has tremendous power to bring relief, hope, and a fresh perspective. Next month, some of our country's most legendary comedians will showcase the gift of humour at a fundraiser benefit at The Second City Main stage Theatre. Get ready to open your hearts and hands, and give your belly a workout at "Take Off, Eh!"
---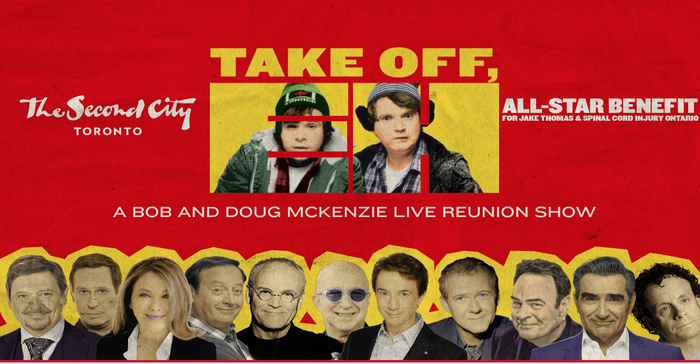 FUNDRAISER | ONE NIGHT ONLY ALL-STAR BENEFIT
DATE: Tuesday, July 18, 2017
TIME: 8:00 p.m.
VENUE: The Second City Main stage Theatre, 51 Mercer Street (at Blue Jays Way), Toronto

---
A Star-Studded Lineup
The show starts at 8 p.m. on July 18th and some of the biggest names in Canadian comedy will reunite to raise funds for Spinal Cord Injury Ontario and Jake Thomas. The Kings and Queens of comedic royalty include:
The "Mackenzie Brothers"

Dave Thomas;

SCTV fame

Rick Moranis,

Catherine O'Hara

,

Eugene Levy

and

Martin Short

;
The Stars of

The Kids in the Hall;

Musicians

Paul Shaffer

and

Murray McLauchlan

.
Jake Thomas - Moving Ahead With Courage
Proceeds from the event will go to Spinal Cord Injury Ontario and Jake Thomas, nephew of funny man Dave Thomas. Earlier this year in Bracebridge, Ontario, Jake was involved in a serious snowmobiling accident that left him with multiple fractures and paralysis from the waist down.
Before the accident, Jake was an active member of his beloved Muskoka community - a local businessman, soccer and hockey coach, avid athlete and overall enthusiastic and helpful neighbour. Now, he, his wife and their four young children are forging ahead with courage after the life-altering injury.
Dave Thomas and his celebrity friends are now uniting in the one-night-only comedy gala to support Jake and his family. They're looking to raise money to help Jake with the cost of mobility devices and retrofits for home and car. Funds from the event will also help Spinal Cord Injury Ontario with their important work of improving awareness, services, and advocacy for individuals with spinal cord and other physical disabilities.
Advancing the cause
Gluckstein Lawyers' founder, Bernard Gluckstein, has served for years as a Director of Spinal Cord Injury Ontario. With a passion for advancing the cause of injury survivors, we invite you to come on down and join in the fun next month at Take Off, Eh!
According to Spinal Cord Injury Ontario, at least one person in our province sustains a spinal cord injury each day. Your generous gift will help make a difference in our community's collective efforts to improve the quality of life for injury survivors and their families.
Dr. Stuart Howe, CEO for the charity Spinal Cord Injury Ontario states: "As a charity, we rely on donations to continue our life-changing work. This event and the money raised by it means the world to everyone in our community and I'd like to extend my heartfelt thanks to Dave Thomas, The Second City and everyone who has made this happen."
On Sale Now are VIP Packages (Includes Pre-Show Dinner, Premium Seating, and Exclusive After-Party with the Stars!) starting at $2,500 per person. Contact SCI Ontario directly for ALL REMAINING TICKETS and packages.
For more information, visit:
www.sciontario.org/media/take-off-eh
www.secondcity.com/shows/toronto/take-off-eh-bob-doug-mckenzie-live-reunion/
---
Comments
|
We would love to hear from you. Please share your thoughts about brain injury in "Leave a Comment" found below.
---
LINKS
>> Potential Treatment Gives
Hope To Spinal Cord Injured
Subscribe to our Newsletter