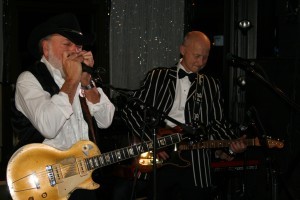 Beament Green and Nicholson Read hosted the first annual Rocking on the Rideau charity event on October 18, 2013. Over 200 people came to raise their fists and raise some money for two great local charities. Local rockers the Cooper Brothers and the Cougars put on a great show! Rock photographer John Robert Rowlands told some "road stories" about his time touring with Elvis, the Beatles, David Bowie, Gordon Lightfoot, and so many others.
Woody from Chez 106's Doc & Woody show and Sandy Sharkey were very entertaining MCs and auctioneers.Auction items included a guitar signed by Sir Paul McCartney, a trip to Los Angeles, a cross-Canada rail trip, an autographed Ringo Star drum skin, and many more. 100% of the proceeds from the fundraiser are being split evenly between the Ottawa Children's Treatment Centre and the Ottawa Food Bank .
We are very proud we had so many people rock out with us to raise money for these two fantastic charities that do such excellent work in our community. We wish to express our sincere gratitude to the staff of the Ottawa Children's Treatment Centre and the Ottawa Food Bank, CIBC Wood Gundy, the volunteers who helped us throughout, the MCs and bands, the sponsors, donors and attendees, and the individuals and companies who provided us with auction items. Without the very generous support of all of you this event would not have been a success. Save the date! We will be rocking again on September 12, 2014. For those who came to rock: we salute you!
See our gallery of pics from the event!" Full gallery here!
Subscribe to our Newsletter