Sponsorship: Niagara Health Expo 2016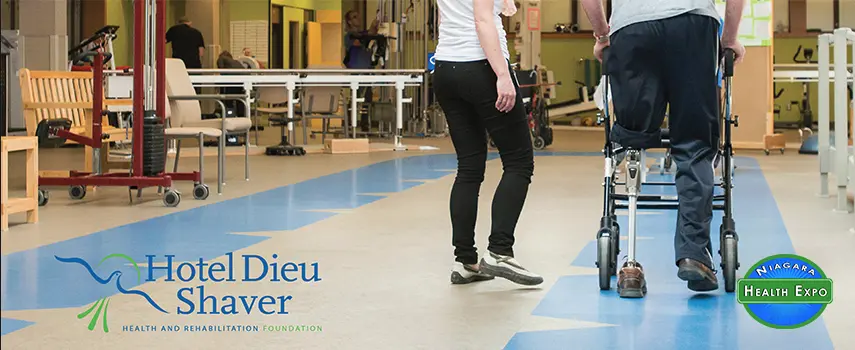 Stepping up as a leader in healthcare for Niagara with a patient-focused approach, the Hotel Dieu Shaver Foundation will collaborate with local doctors and practitioners to host the Niagara Health Expo 2016.
---

---
Upcoming Niagara Health Expo - Learn, connect, interact!
DATE |

Saturday, October 1, 2016
PLACE |
Hotel Dieu Shaver Health and Rehabilitation Centre
ADDRESS |
541 Glenridge Avenue, St. Catharines
People looking for advice on healthcare can meet experts covering a full body of information at the Niagara Health Expo.
Offering tips from head to toe, a select group of healthcare providers slated to be featured at the event will cover a broad range of services including resources for a brain injury, diagnostics, dentistry, vision care, foot health, naturopathy, chiropractic, rehabilitation therapy, to name a few categories. Exhibitors will also cover personal injury and the law, diabetic care, pharmacy, home health care, medical marijuana treatments, supplements, and fitness training, among other displays.
This annual event will feature exhibitors with displays, demonstrations, product samples, and information hand-outs. Expert speakers at the Expo will enable healthcare professionals to connect directly with attendees in a comfortable, interactive environment. Healthcare providers can join the event to connect with people in the community, while also networking with professional colleagues.
Thanks to supporters including Presenting Sponsor, Gluckstein Personal Injury Lawyers, free admission and free parking for visitors will make it easy for the community to participate in the one-day health event hosted by Hotel Dieu Shaver. Local residents will interact with healthcare providers to learn about their services and products. Visitors will be shown how to gain the tools to make better lifestyle choices, and live an enhanced quality of life.
The In-House Medical Consultant at Gluckstein Personal Injury Lawyers, Dianne Henderson will attend the event as an Expert Exhibitor. As a volunteer Board Member of the Hotel Dieu Shaver Foundation, Henderson also appreciates the benefit of community relations for the event partners.
"As a centre of excellence in Niagara, the Hotel Dieu Shaver is an ideal venue for this community event. Highly regarded for its patient-focused approach, the Centre is in alignment with the purpose of the Expo - to empower residents in Niagara with the knowledge and connections to make informed decisions about their healthcare," said Henderson.
Attendees can expect to learn, connect, and interact with more than 30 experts at the Expo designed as a "one-stop shop" to inspire people of all ages to embrace a healthy lifestyle.
"Local healthcare experts can interact with residents at the Expo and connect with people in the community. We know health fairs effectively link the community with public health and medicine. Local professionals can build relationships with colleagues in healthcare, develop referrals for their practice while speaking with a public group on health topics salient to people in Niagara," said Paul Carfagnini, event producer.
---
Niagara Health Expo Exhibitors
Gluckstein Personal Injury Lawyers
Hotel Dieu Shaver Foundation
Henderson's Pharmacy
KMH Cardiology & Diagnostic Centres
Advanced Chiropractic Clinic
Amica - St. Catharines Place
Dentist, Dr. Thomas Pekar D.D.S
Elio's Foot Comfort Centre
Eye Wellness / Sun Glass Cove
Function Ability Rehabilitation Services
Garden City Family Health Team (Diabetic Care)
GroWise Health | Medical Cannabis Education
Hummingbird Wellness Studio
HHS Neurosciences Trauma Program / Neurosurgical Outreach LHIN 3 & 4
Niagara Ostomy Association
Niagara Wheelchairs & Seating
Optimal Wellness Niagara
Ontario Brain Injury Association
Popeye's® Supplements
Royal Henley Retirement Community
Rose Hill Lane - Premium Home Care
Scott Street Medical Centre
Simergy Health Network
Seasons Retirement Communities
The Club | White Oaks Resort Spa ... and more!
---
L I N K S |
Reprinted with permission | Written by Paul Carfagnini, Divine Media
Subscribe to our Newsletter