Take Steps to Stay Safe After Clocks Fall Back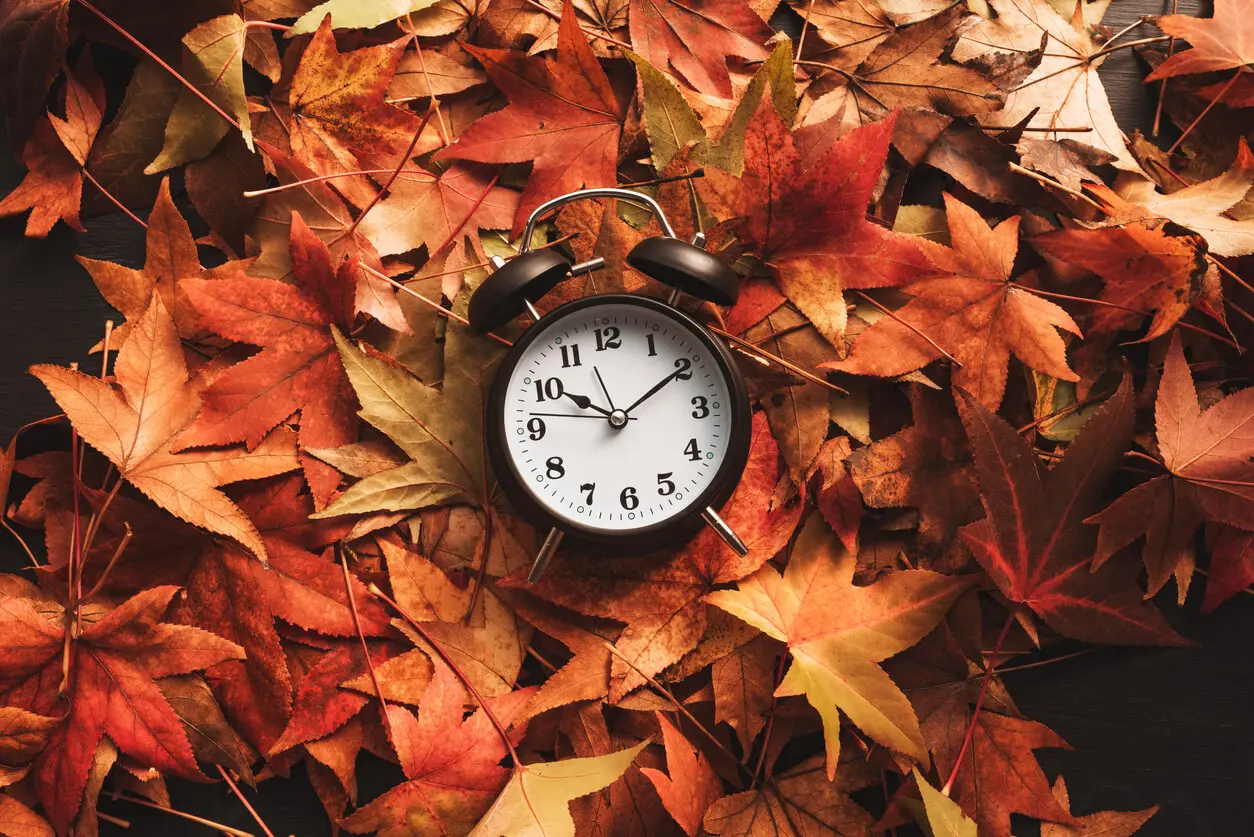 Autumn in Ontario brings many changes. Trees are alive with colour, the weather turns cooler, and we begin to see mornings with frost. The days are also getting shorter and soon we will have to deal with the change from Daylight Saving Time (DST) to Standard Time.
On Sunday, November 5th at 2 a.m., the clocks go back one hour and stay that way until March 10, 2024. This change from DST to Standard time is usually considered a "bonus" to most, as it means we get an extra hour of sleep on Sunday.
When this change is made, the sun will rise and set one hour earlier. Days do not get shorter, of course, it just gets darker earlier each day for the next month and a half until the winter solstice, which occurs in Toronto at 10:27 p.m. on Dec. 21 this year. On that day, there will be about six and half hours less daylight than we saw on June 21.
Daylight Savings Time Has Been With Us Since 1918.
Ontario is one of nine Canadian provinces that observes DST. The time shift idea was introduced in 1895 by a New Zealand entomologist who suggested a two-hour time shift so he could work in natural light longer. Canada first introduced the practice in 1918 to increase production during wartime.
The need to change the clocks forward in the spring and back in the fall has been long debated. In fact, the Ontario government passed a bill in November 2020 to end time changes and keep the province permanently on Daylight Savings Time. However, the MPP who introduced the bill stated that before the change can go into effect, Quebec must also jump on board.
"I just think it would be a logistical nightmare for us if for half the year Quebec and Ontario were on different times and you would have people trying to drive back and forth for meetings and trying to keep track of which time is which," Jeremy Roberts, MPP for Ottawa West-Napean told CityNews last year. "It would just end up being a mess. I really do think we need to get Quebec on board."
Compliance by Ontario's American neighbours in New York State is also needed, due to close economic ties.
Fatigue Can Be dangerous.
Your smartphone and wifi-connected devices typically make the switch to the new time automatically, but for many people that 60-minute difference can be a difficult adjustment.
Since we theoretically get an extra hour's sleep on the morning the clocks go back, reverting to Standard Time is generally thought to be less physically stressful than when clocks spring forward. However, research indicates that even a relatively small one-hour time change can have effects on the body, health and even traffic safety, CBC News reports.
For the next several months we will have to get used to colder weather and increasing darkness. The shortage of daylight can leave us feeling more fatigued, according to the Traffic Injury Research Foundation (TIRF), which has a mandate to "ensure people using roads make it home safely every day by eliminating road deaths, serious injuries and their social costs."
The foundation states signs of fatigue include:
frequent yawning;
sore, tired eyes or difficulty keeping your eyes open;
having trouble keeping your head up, nodding off;
boredom and/or loss of concentration;
irritability;
slow reactions; and
hallucinations.
Fatigue can lead to drivers failing to check mirrors, drifting out of lanes, braking erratically or missing exits or turns. The TIRF states driving while fatigued is as unsafe as driving when impaired.
"Being awake for 18 hours can produce impairment approximately equal to a blood alcohol concentration (BAC) of .05," according to the foundation. "After 24 hours awake, impairment rises to roughly equal to a BAC of .10. To put this in perspective, the Criminal Code BAC is .08. and provincial legislation for administrative sanctions is as low as .04 in Saskatchewan and .05 in British Columbia and Ontario."
Many people adapt to the time change without any problem, the TIRF says. But for others, "the effects of this shift can feel like a bad case of jet lag and it actually takes a day or more to adjust," according to the foundation.
There are a variety of tactics to combat fatigue with driving including opening windows, eating, talking to passengers or listening to loud music, the TIRF states, adding there is no evidence these moves are actually effective.
Be Aware and Be Safe.
Studies indicate that less daylight hours leads to more accidents. But is the time change the reason?
According to one report, research has shown a slight increase in fatal crashes on the first Monday after daylight saving time begins in March. However, there doesn't appear to be an immediate spike on the Monday after we fall back in November.
Toronto Police blame an annual increase in collisions in the fall and winter on fewer daylight hours and worsening road conditions.
Pedestrians are especially at risk, according to one media report. It states Toronto Police historically see a 100 per cent increase in pedestrian-related collisions between 5 and 8 p.m. and a 400 per cent spike between 7 and 8 a.m. in the months following the time change.
Reduced visibility during the evening commute hours from November to March means "people and objects on the road are harder to see," according to the City of Toronto.
When the clocks fall back, the city asks motorists to be particularly vigilant during the evening commute. They offer the following safety tips:
slow down, turn slowly and stay alert;
ensure headlights and turn signal are working;
obey speed limits;
approach all crosswalks, intersections and transit stops with caution;
plan your route in advance and give yourself plenty of time to get to your destination; and
use public transit when possible.
If you are a pedestrian, you can also take steps to avoid accidents such as making eye contact with drivers before crossing the road. You shouldn't jaywalk or wear clothing such as hoodies that can obstruct your vision. Don't text and walk or listen to loud music that may prevent you from hearing your surroundings.
We Are Here to Help When Accidents Happen.
No matter the time of year, it is important to take road conditions and increasing darkness into consideration when you are out and about. However, even the most cautious person can be injured due to the negligent actions of others.
If you have been hurt in an accident that leaves you unable to work, you may be entitled to damages for pain and suffering, loss of earnings, past and future loss of income and out-of-pocket expenses not covered by your insurance company.
Our trusted team of experienced personal injury lawyers and law firm support staff will work diligently to get you the financial help you need to get your life back on track. The initial meeting is free and without obligation on your part. We will never charge legal fees until your claim is settled. Contact us today.
Subscribe to our Newsletter